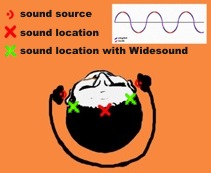 WideSound DSP enhances your Winamp's audio sounding for both mono and stereo songs by widening audio field. When using headphones, stereo music is localized by your brain to the center of your head (see picture,
more information
,
2
). The plugin delays and mixes left and right channels, and by this, makes the 'stereo effect' stronger. It also enhances mono songs, let them sound as they were stereo.
Check out the online demo to hear how it works. The difference can be best heard using ear/headphones.

Plugin's page on Winamp.com - Feel free to rate the plugin!