Welcome to WinampHeritage.com!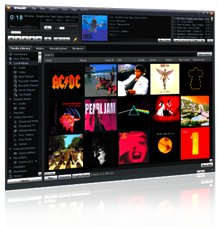 This site is dedicated to the great Winamp Media Player.
Since 1997, Winamp has been the definitive music player of the mp3 era. Its continuous development and solid user base made it the best music player for Windows. However, in December 2013, AOL decided to shut down its development and website.
Our aim is to collect legacy resources for Winamp, including the best skins, plugins and visualizations and make them available to download freely.
Winamp news

Neowin



AIMP 4.10 Build 1820 Beta 2Neowin

AIMP is a powerful audio player that allows you to listen to your favorite music with an outstanding sound quality. Its appearance resembles that of another classical audio player (

Winamp

). The program includes a 18-band equalizer, a visualization

...and more »

PC Advisor



A Winamp-like media playerPC Advisor

The program comes with several skins (Settings > Appearance), as well as supporting skins for XMMS and

Winamp

2.x. Whatever Qmmp looks like, most functions are easily controlled by hotkeys. These are also fully configurable, so feel free to tweak them ...

3DPrint.com



3DPrinting a 3Keyboard Shortcut for Winamp3DPrint.com

IMG_3265

Winamp

(motto: It really whips the llama's ass!) is a media player that works across a variety of platforms and has been downloaded by millions of users over the years. It is popular because of the wide variety of file types that it can read

...

Softpedia News



New Winamp Version to Launch in 2016Softpedia NewsWinamp

has a new owner that's reportedly very interested in keeping the application alive, so now there's word that a new version could launch sometime in the next few months for Windows users. The world's favorite audio player one decade ago was sold ...



Vivendi Buys Into RadionomyRadio World

Radionomy, the Internet broadcast company and owner of Shoutcast and

Winamp

, along with TargetSpot, has a new controller, the multinational multimedia company Vivendi. Vivendi has acquired almost 65% of the shares. A release said, "Vivendi's capital ...



Winamp Has New Owner, May Relaunch AgainHardOCP (press release)

Vivendi Group, which owns or is involved in famous companies such as Dailymotion, Ubisoft, and Deezer, could help relaunch

Winamp

, although the press release announcing the acquisition offers no suggestion in this regard. The company, however, does ...



Universal Music owner buys online radio technology firmComplete Music Update

The Dutch firm bought SHOUTcast and

Winamp

off of AOL back in 2014. Vivendi has taken 64.4% of the company, with the rest of the firm's shares owned by founder Alexandre Saboundjian, its employees and Union Square Ventures. The French conglom ...

and more »



Vivendi buys two-thirds of RadionomyTelecompaper (subscription)

Today, over 57,000 radio stations are using the tools. Radionomy also owns the ShoutCast streaming technology and the

Winamp

audio player, which it acquired from AOL nearly two years ago. It also controls digital audio advertising network TargetSpot, ...

and more »



Vivendi Takes Major Stake In Radionomy GroupRadio Ink

Represented in the Radionomy Group of companies are Radionomy, SHOUTcast, TargetSpot, Hotmixradio, and

Winamp

. Vivendi announced today that it acquired 64.4% of the share capital of Radionomy Group. Vivendi operates businesses throughout ...

and more »