>
Visualizations

>
Visualizations
Winamp Goes 3D v1_51
Your favorite plug-in for your favorite skin!
Your favorite plug-in for your favorite skin!
Have you ever dreamed of getting a bit more out of Winamp? Now you can, Winamp 3D is here! Winamp Goes 3D is an OpenGL based visual plug-in for Winamp, one of the most popular media playback for Win32 platforms.
This is a light version. Please visit the plug-ins homepage at www.lexity.se for additional models & backgrounds. Here you can also find a lot of screenshots showing the plug-in in action. You can create your own backgrounds/models, send them in and we will post it for others to download.
Download visualization
| | | |
| --- | --- | --- |
| July 30, 2006 by Zsolt Nagy | 200156 downloads | |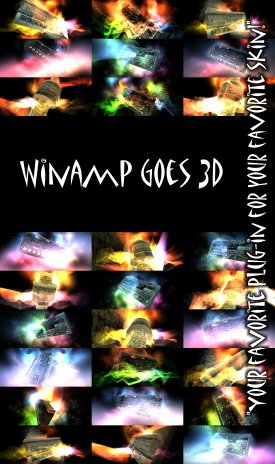 Staff review
Funky OpenGL vis
The response from this was good when run on a reasonable test system.
The rotating 3d Winamp main window was something i'd never have expected to see and is really original!
As a lite version there's still a bit to configure. Only lacking feature is a winamp skinned frame which is a shame, otherwise this is a nice stable vis plugin.
Comments
Really great plugin - im fucked up right now, just wanted to say this is a cool plugin - March 7, 2009 by Richie John
Doesn't work anymore =( - Guess the are problems with the latest Winamp version.It doesn't work anymore =| - August 15, 2007 by Abi S.
1/5 - 1/5 Problems with configure... - February 12, 2007 by DonDomel Domel
Great Vis - i was searching for a good vis and this is a great one keep up the good work btw where to download more models - August 26, 2006 by flash back
Missing Features - It has great options as far as changing the visualization but it is lacking a randomize feature that would cap it off perfectly. Otherwise, the colors, ideas and beat detection are great. - July 31, 2006 by Luke Demery