>
Visualizations

>
AVS Presets
Winamp Forums
Compilation 4
Winamp AVS Forum Compilation 4.
Thanks to everyone to helped in the creation of this project. Thanks also to Warrior of the Light for his brilliant idea last year, these packs have really seemed to boost everyone\'s spirits and bring us all closer together.

Participants included:
- ASD5A
- Denkensiefursich
- Grandchild
- JaVS_v2.5
- JFASI
- Jheriko
- MaTTFURY
- Pak-9
- StevenRoy
- Yathosho
Download visualization
| | | |
| --- | --- | --- |
| May 20, 2006 by Winamp Forums | 29226 downloads | |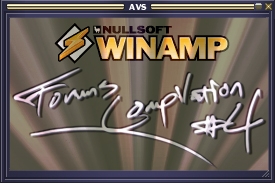 Staff review
The WFC series has recovered from its stumble.
After the disappointingly average WFC 3, I guess that a lot of people had doubts considering the fourth version. Things, however looked way more promising with some AVS superstars deciding to come on board (Pak-9, Jheriko, and Yathosho). Just good enough to balance Matt's presence, eh ? ;) The main strength of this pack, however, is in the fact that the new guard did a great job here, especially on the remix part. Especially Kar-ma, whose brilliant remix of JFASI's nice No Use Crying... and the great mix of the already brilliant Simple Complexity by Jheriko are among the highlights of the pack. Pak-9 makes up for his less than brilliant Spekky (the ASD5A remix of which is stellar) with the great Boxique remix of Yathosho's Electronique , his lovely remix of JaVS's Candy Box (which ASD5A did a great remix of too) and the Outro, which is possibly the best outro I've seen ever in a pack. ASD5A's intro is just great, and Grandchild's Paper Fly might just be the classiest preset he ever made. Despite all this praise, this isn't a 5 star pack. Close, but it isn't. There are a few presets that don't come near the others (including a certain preset by a certain person, and its remix (I don't blame the remixer for that one). It's an essential download nonetheless, and one of the best packs of the year.
Comments