>
Visualizations

>
AVS Presets
Whacko AVS pack Release 2
Never-seen before effects! (updated)
Never-seen before effects! (updated)
This is a small (11 presets) pack of totally new AVS effects... checkout 3D projections, lens effects, gouraud-filled 3D triangles, fully dynamic fractals and much more! See included .txt for changes in release 2.
Download visualization
| | | |
| --- | --- | --- |
| July 27, 2001 by Steven Wittens | 72839 downloads | |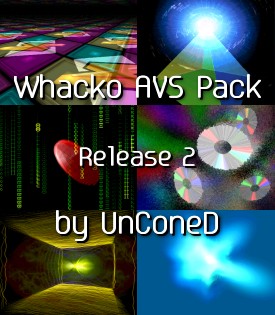 Staff review
Very original AVS stylings here
From 3d pyramids to matrix efx to that cool amoeba star preset... this pack is very tight. 'Wormhole' is an excellent 3d warp tunnel visual... and 'Second Reality' is downright freaky looking. Nice innovative visuals.
Comments
Awesome... - Awesome pack in its day, a bit stale now, but this pack is one of the reasons I started to take AVS more seriously. Great work, definately worth the download if you haven't seen it before. Ignore the virus jerk's comments.... stoopid noobies. - June 5, 2006 by Semi Essessi
Introducing! - July 27, 2001. The avs world knew a new Master. In fact, Wittens' re-released his first pack, showing that he already was a perfecionist. Since then, UnConed turned out to be one of the most famous and respected Avs Masters. - April 18, 2002 by joaquim jardim
*Virus spreader in disguise! - eat this sh#!t!!!!!! totally [email protected]! a Nazi idiot like this punk doesn't belong to our community. he's proudy with brainless mind...just like animal. - April 2, 2002 by Vincent Mostert
my apology - I might had been failed for not giving his credits in my current pack -One- To be honest, I don't even get closer to him as far as 3d fx is concerned. I need some hardtimes to figure out how it works. Shame on net stalker! - March 28, 2002 by Daniel Joe Tandiman
A Cold Artist! - The techinique is perfect. But I miss more feeling, you know, more swing, more music, more fun, more soul, more life...I wish I had a decent english writing, so I could do it as good as you do. - March 27, 2002 by reynaldo paes
Outstanding Work! - I can't belive some peoples under-rated this pack just because their systems have some problems in playing or modify these presets. On my 3 years old system all the presets works very well and I can modify whatever I want without crashes of any kind! Aren't Steven's presets bugs at all but your systems fellows! - February 16, 2002 by Fabrizio Cattaneo
damn - I couldn't load it!! - December 5, 2001 by net stalker
extremely great - this AVS pack is very amazing, it is 2nd only to el-vis.. very original - December 2, 2001 by Shawn Cresante
One of the Best - Steve, this is noe of the best packs I've ever seen. The effects in 'Second Reality' and 'Pyramid Star' are basically things I'd been trying to do, but you did it sooner, and 1000 times better than I could've. This is truly excellent work! - December 1, 2001 by David Hansen
superscope brilliance - complete mastery of the 3d superscope and dynamic movement here - genius - November 6, 2001 by the bainer
Not True Wacko - Go to a superscope and play with the d and r equations. Put in a big number and... buh bye Winamp. I'm not saying your wrong, or that your presets are wrong (its not, GOOD JOB), but you CAN infact mess up stuff with a Preset. - September 21, 2001 by Clifton Volatile
Almost 5 - The plugins are pretty and are simply the best. But I get some problems when seeing to many plugins then there are comming faults in AVS.dll. Fix this problem and it's worth 5 - September 9, 2001 by JEDGpro - SteV
Great - This Is A Really Great Pack - August 24, 2001 by Danny Golubking
Wow...... - This is a really cool one!!!!! ;) - August 21, 2001 by Tino Polster
Wow! - I've gotta say it, this is THE best pack of presets i've EVER seen! Maybe as tonic said, there should be a little more beatdetection, ect, But i just love it. :) Maybe you should try and make the presets spin around in 360 instead of 180, but... (check in El-vis - Plasma, wheeloffortune, it's done there) - August 13, 2001 by Linus M�rtensson
Amazing - You pushed new DynamicMovement and 3D-effects of AVS a considerable distance ahead. I still wonder about the speedy and smooth movements of some of these (at least with some fast PC). Very original and very innovative. - August 8, 2001 by Frank Nagel
Nice work - Very cool, I like the great 3d fx's you've used here, xtremly smooth - My only critism is the lack of the journey factor, they all look a bit 2.... well... straight. Peace. - August 4, 2001 by Zen-X (Liam McLaughlin)
When I'm ipresed what more can be said about ? - Realy good ideas. Some of them were in my mind for long time but never release how to produce them (like tunel with DynMove ,3D rotatting room, rendom movemnet withou randoms etc.)other ideas are very old like Fractal, 3D SSC and Solid SSC. Overal rely impresive presets. Need just some better beat detection and some more work with AVS to learn more tricks for speed up and usage of some of effect. My fav is "07 - UnConeD - Amoebic Star.avs". Can you send me "Second reality" because as I check in my archives i found that I lost it :) - August 4, 2001 by Tonic (Yordan Vulchev)
krk - technically stunning, but kinda boring... no real eye-catchers - August 4, 2001 by A Guy called Yathosho
Whacko pack, Best Pack? - marvellous tunnel effects...and very cool 3D environments... this definitely deserves five stars... - August 3, 2001 by Wim Celen
Incredibly Cool! - Wow! These effects are simply fantastic, some made me double-check if I was really running this inside AVS! I love everything from the 3D floating disco to the spinning CDs. Oh and I also think this pack has the first Matrix preset that doesn't suck! Great work, I hope you'll make more! - August 1, 2001 by Gene Thornsdale
Whoa... - Sorry, I'm having a little trouble typing here, I'm still recovering after falling on the floor from seeing "Inside Rubik's Cube." These are the COOLEST thing I have EVER seen! I don't understand these people that say that it doesnt deserve five stars. I haven't seen anything like this before for AVS, and I think you should keep making them! Go Steve! - August 1, 2001 by Ess Jay
Variety - There are cool effects. Some are very slick! - July 5, 2001 by Jim Mathis
Cool Stuff - It's cool, I like it, but, there's better... a very good effor though. I wouldn't actually say it's amongst the best though. Why? Think about it. - July 3, 2001 by Neoweb Network