>
Visualizations

>
AVS Presets
Whacko AVS IV
Featured AVS Preset, 2002.
Featured AVS Preset, 2002.
The next level of AVS visuals! After a short break, Whacko AVS is back to bring you another episode of gift-wrapped and ready to rock presets! My goals haven't changed: to bring you presets that push AVS to the limit and bring you interesting, unique, complex visuals. Get ready for more fun with 3D dynamic movements, 3D superscopes and custom written APEs that come together in some great, music-reponsive presets!
Download visualization
| | | |
| --- | --- | --- |
| September 16, 2003 by Steven Wittens | 93548 downloads | |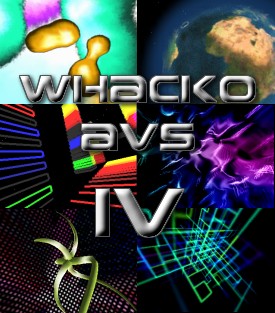 Staff review
Definitely download this collection
Very impressive visuals throughout... varied styles with extremely pleasing results. There is some great usage of custom APE's in this pack... makes you yet again scratch your head and say 'wow, that is AVS?' And if the quality visuals weren't enough, the author also gives you detailed explainations and descriptions of each visual. I hope that more AVS artists do this in the future... it really gives the viewer some insight into what is being accomplished and all that good stuff.
Comments
The FX - A nice pack, but the Metaballs 3D and the Tentacles 3D, sometimes, don't work on my PC. KEEP UP THE GOOD WORK!!!!!!!!!! Alessandro Zara (a.k.a. SDL) - December 17, 2004 by Alessandro Zara
[]D ][ []\/[] []D !!!!!! - I do have to say that after about 5 minutes of trying to figure out how to get the visuals to change and getting frustated to the point where I was ready to say fuck it and uninstall.... I was quite relieved to see that it was worth it! So I had a moment. But I can say this..... This is a fuckin awesome plug-in. If you are into trippy visuals and fractals then you have come to the right place! I can only imagine that it gets better from here with more use of the plug-in settings and all..... - May 29, 2002 by Stephanie M
Wish I Could! - I wonder what so many people see in this pack. No doubt the presets are well done, but after some minutes, they become really boring. I think it's because they reflect the author's personality, or maybe it's because I'm not a good math student. - May 28, 2002 by beth matos
Good - Its tight but some of that av SUCK ass dude but the nuceler war is some good shit aight later.DOWNLOAD it. Its worht downloading - May 20, 2002 by Guns N Ammo
He's a genius - Yes, everyone knows he's a genius, I really like all of his work, but the only thing I don't like is that he's giving more attention to writing APE's than the presets... well, at least this is my opinion. Oh, my fav. are "Plankton "Hypernet" & "The Insane Architect", and you see that no one of these are made with the "help" of any kind of extra AVS plug-in. (4 and a-half STARS) - May 18, 2002 by Jorge Rios
Phew... - How the bloody hell do you make these. I can only get as far as moving particles and VERY Simple DDM and DM's. I want your AVS mind...! You are some sort of AVS Genius or something? How long has this gone on for? MAKE MORE!!!! - May 8, 2002 by Winamp Rocks
nuclear warfare is cool! - This is a great little set of presets, but the Nuclear Warfare one truly rocks. - May 5, 2002 by punky dawg
idiot lamer - finally another virus attack from this whacky boy!!!! please stop this neo-nazi kind of propaganda! he tought he smart enough to blind us. the truth is out there. - April 19, 2002 by Vincent Mostert
This is AVS at it's best... - UnConeD (Steven Wittens) suprises us again with another episode in the Whacko AVS series. Number four is packed with great presets and new .ape's. If you make AVS presets, you should download this now. My favourite of this pack is Cartoon Trip. This pack is AVS at it's best... - April 18, 2002 by Sander Kupers
- - It's got it all... - April 18, 2002 by JaY FaTBoY
Benchmark Pack - He has added some extra miles to push AVS features beyond it's limits with this pack. His custom APEs have also brought a new dimension of creativity to avs world. There is only one or two presets require a fast pc to run it smoothly, but it doesn't mean this pack not worth to download at all. In short, this is seriously an amazing pack! - April 18, 2002 by Daniel Joe Tandiman
damn... - Very original pack with some very sweet visuals. This is my favorite of the Whacko AVS series. Unconed has brought new use to AVS with some new APEs and I really hope that he brings more...a lot more. Get this pack right now! - April 18, 2002 by brad candullo
More Quality... - Another worthy follow up to the rest of the WACKO packs. Good work on the Tripex effects too. Lots of original work here. Well in the top 10 of the preset packs out there. Rovastar (Steve see mate I can be nice about AVS. :) ) - April 17, 2002 by John Baker