>
Visualizations

>
Visualizations
Tripex3-12
The Best Winamp Plug-in
The Best Winamp Plug-in
The one currently posted on winamp by Ben Marsh is very out of date and does not run on most up-to date computers with nVidia cards. This is the newest version I could vind v.3.12.7 and it works. Their website is no longer up but this is my favorite winamp vis of all time. This version unlike previous ones requires DirectX 8.1 and 3D accelerator, it doesn?t support software rendering. I?m not trying to call this mine I am just trying to make this free release of the best version of the best vis out there available. You can?t find this file anywhere anymore its old and has sense been taken off all available ftp mirrors.
Download visualization
| | | |
| --- | --- | --- |
| September 23, 2005 by Mike B | 358225 downloads | |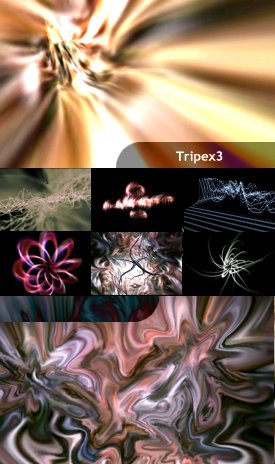 Staff review
Blast from the past..
This is noted as an external submission of the plugin (with it being an updated version already available here http://www.winamp.com/plugins/details.php?id=92178)

However as a vis plugin goes, this puts a load of the current ones to shame especially considering it was last updated at the end of 2002! Some aspects are starting to show their age against the rivals which have continued to be updated but really just go on and give it a try!
Comments
Try this with 3-d glasses you get from any 3-d movies or such Awesome! - February 15, 2010 by [email protected]
Simply Amazing! - This vis is one spectacular show. Glad I found it. I also like the on-screen controls, especially when viewing it full screen. I'd totally recommend it to anyone! - April 5, 2007 by Troy G
Tripex - No. 1 - I first used this vis in 1999. After a long break, I was extremly pleased to stumble across version 3-12 a couple of weeks ago. I was even more impressed when I realised how much had changed. I used it on NYE house party. This quality bit of work reflects that of the Winamp app. Massive Thanks and Respect to you Mike B! - January 10, 2007 by Martin Madrzyk
Incredible!! - By far one of the best I've seen!! Totally mesmerizing!! - November 13, 2006 by Aaron Carr
Good - Buen Plug in Solo seria bueno que fuera opcional quitar la barra de tiempo y controles aparecerlo con alguna tecla y desaparecerlo cuando no queiras Asi como aparecer el nombre de la banda y cancion cuando quieras Pero en General es muy bueno Solo por eso le doy 4 estrellas Gracias MaRtYn - August 26, 2006 by Martin Cavazos
the best ever seen... - you should see this stuff on BIG ASS SCREEN....it is more than 5 stars.... - July 10, 2006 by Andrius Kucas
AWESOME!!! - This stuff is amazing. 5 stars all the way. Very trippy. - April 1, 2006 by Sam Spoerl
3D The Best Plugin Ever - This Is The Best 3D Vis Ever :) 5 Star - January 15, 2006 by Jake Fischer
Legendary - This vis is the big daddy of them all. Complex skins and so many of them too, make sure that your party will be one to remember with this on the wall with a projector This one is truely recommended ***** - November 11, 2005 by Kermath Davies