>
Visualizations

>
Visualizations
Toon Amp
Featured Plugin.
Featured Plugin.
Unique 3D cartoon rendering. This is for those people that are tired of all the typical weird blurred visualizers! Toon Amp renders realtime 3D cartoon scenes that react to your beats. Choose from 8 different combinations of effects. Works best with Geforce3 cards or high end processors!Updated version cycles through all 8 effects.Version 2 Additions - Remembers window size/position, always on top option, no flickering in full screen, no memory leaks.
Download visualization
| | | |
| --- | --- | --- |
| February 1, 2003 by Chris Egerter | 160899 downloads | |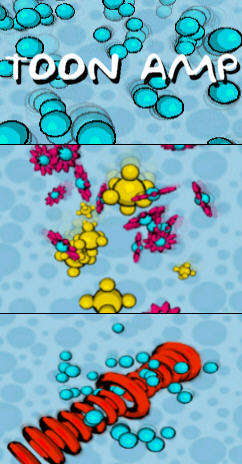 Staff review
A definite fresh breath of style in the visual plug-in world
This one is well worth checking out.... one of the more orginal 3d visual plug-ins out there. Not only is it innovative in terms of style, it is also a thouroughly enjoyable visual experience. All the cartoon-like graphics are extremely beat responsive too. Definitely check this out. I ran it on an old p2 machine, and it went ok...but, then ran it on the newer p4 and it ran beautifully. New version fixes some bugs and give a couple of handy options.
Comments
Smart, but limited - This plug-in uses a very smart way of rendering cartoon-like-3D-images. The only proble m is that it's limited to spheres and abstract shapes. Try building a cartoon character out of spheres. I am thinking of a tecnique to render 3D cartoons, it has to do with the Z-Buffer and object projection... e-mail me if you're interested. - February 8, 2002 by Guillermo Morales
Cel-shading - We need more cel-shading winamp plugins. Enough said. - January 23, 2002 by Ryan Nickell
ok - ok lang. - November 21, 2001 by Dexter Tan
NOTICE OF COMMENTS - I just wanted to say to all the people that have posted comments to this individual - Give the guy a break !!! If anyone thinks they can do a better job - then you do it !!! GROW UP !! - November 4, 2001 by Chuck B.
Nice, but LAME - Download it, and you'll find it is crippled and you need to pay... IT WOULD ONLY BE FAIR TO STATE THIS IN THE DESCRIPTION. - October 20, 2001 by Goran Zec
amp - cool! - August 28, 2001 by dj chabz
Author's web site + forums - Check out the new site and forums for this plugin at www.3dengine.ca/winamp. - August 28, 2001 by Chris Egerter
HEY WTF - who charges money for a plugin. if you have to charge at least put some effort into it, other people put out real 5 star work for free. and do some testing too, very crashy. - August 24, 2001 by J F
Toon Amp - Not bad, but lets get more dancing girls.... - August 24, 2001 by george niland
Toon Amp - This would have gotten at least four stars because it is pretty cool but it caaused some initial problems on my computer which I have fixed now. - August 23, 2001 by Heath Sprinkle
great - its great - August 21, 2001 by mark riley
TIGHT - IT IS REALLY COOL. I LOVE IT! - August 20, 2001 by DIANNA COLLIER
crashed my computer ! - crashed hard...nothing worked anymore...hat to RESET ! I have win2k with a normal game-oriented hardware- configuration... - August 19, 2001 by Nikias Klohr
cool... - looks interesting... e z on the eyes... - August 16, 2001 by Anthony Tang
Very Original but? - It seems wrong to charge money for a plug-in for a freeware program. It would also be better if it were more dynamic and changed more often as well as no song title and toon amp displays. - August 15, 2001 by Garrett Lewellen
I AM THE ALMIGHTY HOE - Cheese - August 12, 2001 by Joey Mann
I'll Be Damned - Well, this one LOOKS GREAT, however it crashes my computer literally EVERY time I try to use it. I'm using an ATI A-I-W card. Let me know if this is happening to you too cos I'd REALLY like to be able to use this one. - August 11, 2001 by Ian Newman
very good - This is a very good plugin but you have to pay for it so I only gave it 1 star. - August 10, 2001 by Simon Cook
its lame - its really lame - August 8, 2001 by ravell bad
A nice twist - The animations are cute but repetitive... it held my attention for three songs. I don't understand the Staff review of five stars.. this is not at all in a league with Geiss etc but its a nice change from the run of the mill AVS presets. Because it is fresh and new I also don't understand the negative reviews. - August 8, 2001 by paul edenfield
sweet - haven't tried it, cos i don't have a 3D Card atm, but the screenshots look sweet :) keep it up. and update your dancing can plugin to use bottles & stuff & add some new options to it, would definitely be nice :) - August 5, 2001 by trip intospace
TiGhT! - this is so pimp... finally something different - August 5, 2001 by Max Arioli
This is too push you back to five stars - I think it deserves five - August 3, 2001 by Jonti h
this sux - Ok Chris...you & your plugins suck! Both of them I downloaded crashed my fuckin Winamp & now I have to redownload winamp because of your dumbass,fix the fuckin problems before you put it out retard!!!!!!!!!!! - August 1, 2001 by Matt Blair
Pretty sweet - Refreshing and different! - July 29, 2001 by Layne Thomas
Toonfully Fun - Hey it's better than nothing right? Good job - July 28, 2001 by theurbanraptor .