>
Visualizations

>
Visualizations
Synesthesia v11a
Use multiple Sonique vis plugins simultaneously
Use multiple Sonique vis plugins simultaneously
Allows Winamp to use Sonique visualization plugins. Features include multiple simultaneous plug-ins, extra effects, built-in configuration of Sonique plug-ins, a preview mode, etc. etc.
Download visualization
| | | |
| --- | --- | --- |
| March 25, 2003 by Richard Asbury | 87196 downloads | |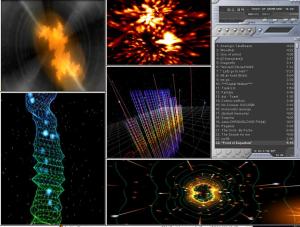 Staff review
Play multiple Sonique vis plugins at the same time
Very nice visualization tool that allows you to play multiple different Sonique visuals simultaneously. Configure which visuals you want to run and which display size, hit start, and you are good to go. You can move and resize each window however you want. You can also arrow thru the presets with your keyboard during playback (although, I crashed Winamp a couple of times doing this - running win2k and Winamp 2.81).
Comments
^^ - this and geiss is all i use ..very nice make - December 23, 2003 by the pharoh