>
Visualizations

>
Visualizations
Spectragon
Dynamic per-pixel lighting with OpenGL
Dynamic per-pixel lighting with OpenGL
This plugin uses dot3 bumpmapping to create dynamic per-pixel lighting with OpenGL. It'll move to the music creating quite a nice effect. The bumpmap is selectable aswell as the number of lights. Fullscreen or windowed, you decide.For best effect you'll need a graphic card capable of doing DOT3 bumpmapping (for instance Radeon or any GeForce based card), but it'll run on nonsupporting cards (but with bumpmapping disabled).
Download visualization
| | | |
| --- | --- | --- |
| June 1, 2001 by Emil Persson | 111341 downloads | |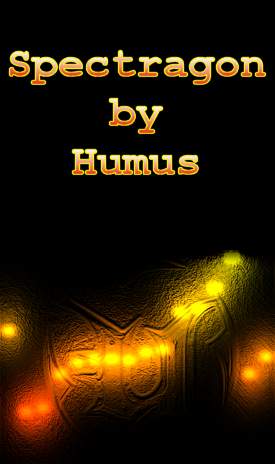 Staff review
Spectragon Vis plug-in
Cool light show... bouncing dots of bright light with a background. Looks like the Unreal logo back there.
Comments
Huh? - It that all it does? - May 29, 2004 by Mike Hemmerling
Spectragon - Me likes but it needs a full screen view - March 27, 2004 by P Devries
LUBBERLY - This is one great plugin. Great concept. Great visuals. I have only one request - can you make it so you change how big the lights are or their intensity on the background image? When you have loads of lights or only a few, the picture looks rather crazey. Other than that - brilliant! To the guy who seems to only download a 25k file: Hell knows what's wrong with you, but this plugin works and it's damn good, so it must be you and whatever hole you live in. G'bye y'all. - February 25, 2003 by Toto Lord
nice try but not brill - looks nice at first but more than a bit repetative also isnt that stable - April 1, 2002 by Ian Prince
Why do we need a title? - I love this plugin. I also love the demos at your website! - April 1, 2002 by Dave C
Really nice! - Pick the skull-background, play some Slayer and see how it fits! This is a kickass plug-in! You can't do much with it, but anyway...it looks really nice. A very trustworthy little companion! And believe me - I've tried ALL the popular plug-ins. This one is one of my 5 favourites. - March 23, 2002 by Kim Andersson
!!Hey Winampstaff!! - The file is evertime I downloaded only 25K small What is happend whit this file? - July 10, 2001 by qwe rtz
Not that exciting - Kind of boring, bump lighting effects neat for about a minute or two but that's all there is to it - June 3, 2001 by jor mustermeir
Mr X - Awesome plugin :? - June 1, 2001 by Emil Persson