>
Visualizations

>
Visualizations
SoundGraffiti_2_0
SoundGraffiti
SoundGraffiti - all nuances of music in light. Is a unique representingceful intelligent music light
SoundGraffiti - all nuances of music in light.
Is a unique representingceful intelligent music light . The program convert input sound signal of microphone (line input) or winamp to yield signal representing DMX (LTP) dimmer devices (Lamps, projectors and etc)). You can make own Home Disco!
See my homepage for more circuits and support. www.soundgraffiti.net.
it is like DiscoLitez (a little),but on other principle and a unique algorithm.
Download visualization
| | | |
| --- | --- | --- |
| April 10, 2005 by Valery Zhukov | 111137 downloads | |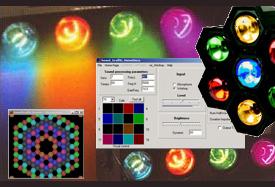 Staff review
This works well though compared to some other visualisations out there the variety is missing. However you can still tweak what's shown. A winamp skinned frame would be add to the look of this otherwise a nice one to try out.
Comments
Very neat, but somewhat lacking - I somehow expected slightly more from the title screen, but it works well :) - January 6, 2007 by Xander Xander
Very good. - Really color music. - April 14, 2005 by sov budka