>
Visualizations

>
Visualizations
Sound2Vision
: See Sound Hear Color ! The newest and most innovative visualization program, Sound2Vision !
: See Sound Hear Color ! The newest and most innovative visualization program, Sound2Vision !
: See Sound Hear ColorThe newest and most innovative visualization program, Sound2Vision!The biggest strength of the Sound2Vision is the unique audible and visual experience that it creates. Sound2Vision makes people experience with eyes the feeling of music perfectly. It is differentiated utterly from existing visualizations that work out arbitrarily. Sound2Vision can visualize all characteristics of sound as like loudness, pitch, and stereo and timbre etc in real time.It operates by the most advanced frequency modulation method in the world based on the mutual conversion formula between sound and color. Sound2Vision is patent registered in Korea (No. 10-322347) and patent pending in 9 countries.You will have a unique and enraptured experience for the first time in your life!
Download visualization
| | | |
| --- | --- | --- |
| January 9, 2003 by HarmoniColor System | 90988 downloads | |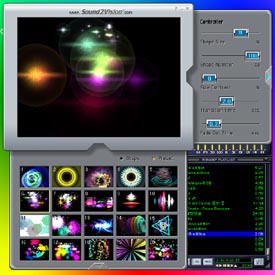 Staff review
Solid visuals; great interface
The UI to this one is very slick. Two pop up windows slide out from the sides of the viewer to give you your controller options and preset choices. The presets themselves are all well done, not very complex, but, they look nice. You can also switch the shape of the current preset.... very cool feature. The controller panel works with the size, number, and contrast of the shapes...as well as the transition timing between presets. An overall solid visualization plugin that is very well designed and has a professional feel to the interface. Resolution options as well as user presets would be nice additions.
Comments
Dunno - I dld this and tried it and it just gave me an \"Direct 3D error\". BTW. when installing it i remembered that i had done that couple times before -but never used it though.. . . So it has usability/compatibility problems. - November 24, 2006 by jim taika
Ummh - Nothing that special here nice interface and all that but as to the best in the world at moving to the sound, etc I suggest you download a few other plugins before claiming that. Some of it is not bad but no beat detection/breaks, etc, so nothing groundbreaking. Maybe the next version. .............. Rovastar - June 4, 2003 by John Baker
incredible in matching! - Some people says this plug-in isn't spectacular. But, it's not true! This plug-in is incredible in matching sound and vision And I think the strength of matching sound and vision is more important than vanity-looking vision. - May 30, 2003 by Wannafree !
doesn't this suck - I just registered to winamp.com so i can warn people about what a lame plugin this is. if you don't mind sitting back and staring at the same patters then go for it. i enjoy seeing a mix of patterns taking place without my having to change them manually each time i want to see something different. don't download it. total crap. - May 12, 2003 by dave avu
A choppy 2D moving picture - The overall design of the plugin is very nicely done. Even though there are a lot of options, the picture itself isn't too appealing. The graphics are very choppy. The author has tried to create a 3D look to it, but it turns out it's mostly just a bunch or shapes being rapidly overlapped. I'm a bit disappointed by such a highly rated plugin. - February 23, 2003 by Jin Werner
wow incredible - wow i've never seen such a nice and clean visualization.. incredible vision that matches the music.. it just attemps me so much:) - February 12, 2003 by joongi min
Don`t think, Just try to use - It is incredible plugin !! I am much impressed by this plugin. Through this cool thing, I can understand what music wants to talk, and it is quite nice to look at. This perfect match of sound and visualization belongs to a different level from other visualization plugin. It seems it can converts the features of sound`s beat, tone color, pitch, loudness, location into the corresponding visual features, such as shape size, color, and the position of screen perfectly. And It has cool UI. I just click the button, and that's all. Users can adjust animation effect with response frequency range, response frequency sensitivity, shape, change speed, etc. Don`t think. Don`t ask. Just try to use it. Then, this plugin will be your favorite visualization . - February 11, 2003 by Jeayoon Kim
looks good here, but - it won't even TRY to work on my computer. I try to exacute it and it doesn't even have an error message. It just never pops up. I even downloaded this twice, but it sill wouldn't even register it. - February 6, 2003 by kalika mata
i like it - this one has potential, but i miss some features here: fullscreen, overlay output, presets-editor, shortcuts etc. - January 22, 2003 by A Guy called Yathosho
incredible ...but - incredible yeah lots of options and preset but.... :( no possibility to be in fullscreen (and we hope different resolutions too) - January 10, 2003 by WAFR WAFR