>
Visualizations

>
Visualizations
R2extreme 1v60
Featured Plugin, 2002.
Featured Plugin, 2002.
over 35 breathtaking scenes - See what a WinAmp vis is really capable of... Multiple scene Fades, WinAMP Control, Cusomizable effects,configurable keys, a proper user interface, and a hell of a lot more.Now with even more scenes, combinations of scenes together, the ability to 'mix' your own scenes, and much tweaked bass response... 1.54 features some minor bugfixes, and the strobe off by defaultWithout your support the development of R2 cannot continue - Please see http://r2.rabidhamster.org for registration information.
Download visualization
| | | |
| --- | --- | --- |
| February 1, 2003 by Gordon Williams | 321634 downloads | |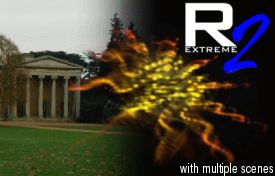 Staff review
R2 is back... intense 3d visuals
R2 Extreme brings some very enticing 3d visuals to the table. Rapid, smooth, and incredibly beat responsive...these are sure to please the eyes. Highly configurable by way of a slick on screen interface (so you don't have to minimize when you want to change settings). One bug to report: this actually froze my laptop a few times... to the point where I had to unplug it and take out the battery to get it to restart. The laptop is running with win2k, winamp 2.80, and a nvidia geforce 2 card. Hopefully others don't experience it... but, if so, be sure and let the author know. It runs very smoothly on the desktop.
Comments
omfg this kickz major anus - I have been a fan of R2 since "R2 Vis 1.56" and all i have to say is it just keeps getting better and better. i have my pc connected to my 50" TV and use it at my party's. it's always a big hit! would recommend it to any1 looking for a bada$$ plugin. the free 1 is great and i am REALLY thinkin about buying the full version. - July 21, 2003 by Fred Schojan
Ace Plug-in - Why are people moaning!!! its an ace plugin and runs really fast (45-60fps @1024x768x32). Its a cool plugin and if you really dont like the unregistered sign then buy it. - July 3, 2003 by Rob Morgan
R2 has to be the best - All I have to say is that I LOVE the R2 series (as it has now become!) Personannly I love the cleanness and the great reaction to the music, If I owned a music club This would be what is on the screens! Beautiful stuff - June 1, 2003 by Chris Roberts
This is a damn good plugin - This plugin awesome I do not know what the rest of you cheap asses are doing with plugins in the first place. My last system was a p3 800 with a G-Force 2 ultra and ran this good with a little chop in screen change. I noe have a 2gig with a G-Force 3Ti and it rocks This is one of the best plugins I have ever seen. You guys need to upgrade those p2's this is not a 3D power app and I hope you guys don't play game if you have aproblem with this app. - August 27, 2002 by Wes Blah
Mmmmm..... - BAH!! Drains the shit out of my ram.... you just listen to the music: chop.... chop chop..... laaaag.... chop chop chop.... glit... laaaagg... stutter... I guess it's good if you're Bill Gates - August 18, 2002 by Nick Bertke
Great Graphics - Great graphics. Those who say it's slow probably have a slow computer and not enough video memory. It runs great with mine and only slows down slightly when switching scenes but is perfect for the rest of the time. Only reason it doesn't get 5 stars is because it doesn't switch as smoothly as I would like as I said before, it has the annoying "unregistered" at the top and at some points it doesn't really move to the music. - July 18, 2002 by Andrew Khalil
What "an" waste of time..... - Cause its very slow at some parts. The graphics are cool, but its just way to slow. The options are quite hard to figure. The other plug ins are better, don't waste space and time on this. If it was any slower it would be as much use as a 400 tonne glass football. - June 6, 2002 by Callam Weeks
This is 'it' - huh,it seems some people can see only the gigantic registered sign and think wildtangent makes real cool plugins. they are called suckers. - May 30, 2002 by Anjanakrishnan Kannadath
With all due respect, screw you. - "remove the unregistered part, maybe I'll consider an extra 2 stars" - kiss my ass dude. rate it on whether you like it or not, not whether you're too much of a skank to pay. - May 24, 2002 by Gordon Williams
U have to pay.. - I agree with Vincent Huisman."The grafx are awesome, man! GJ, but... I gave it 2 stars instead of five, cux u gotta pay 4 it... if it was free, I would have given it 5 stars for sure. I actually like this as much as Acidspunk II, but cuz asII is free, i like it more. you should at least remove the "unregistered" part, maybe I'll consider an extra 2 stars..." - May 23, 2002 by Shreyas Potnis
Very Good! - But i dond find an Option to set the Displaytime for the Effects....hmmm.i must search ! - May 21, 2002 by Giant Ursus
Sooooooo Cooooooool - This is a must have. The Kids at my gig's LUV IT - May 19, 2002 by Kevin Davidson
Excellent! A++++++++++- - Well this is one heck of a plugin...excellent..everything is thumbs up..the only gay thing about it..i need to get a better PC to enjoy the graphics! - May 17, 2002 by Orgazmo Ray
whatever this thing's on, i want 2!! - 'its good, dammit' says it all. SWEEEEEET plug-in w/ vivid colors an' SWEEEEEEET graphics!!!!!!!!!!!!!!! - May 17, 2002 by josh timmons
Not worth it... - The visuals are pretty decent... but after watching it for a few minutes I couldn't see any sort of interaction between the music I was listening to and the 'eye candy' on the screen. The $15/$60 registration is a joke. It's not even worth keeping on my system even if it was free. - May 16, 2002 by Jonathon Fillmore
sweet - this kicks ass - May 15, 2002 by Trevor Masse'
kewl - i like the fat effects, at most the metallballs and their reflections, one of the few pluginns that demand some power of graphic cards (runs perfectly with GF3 Ti 200) i can understand that Rabithamsters want some bucks for the full version, because it cost them much time and sinew......... good work "RabitHamsters" - May 14, 2002 by Alex OC
Good - I have an AMD Duron 800MHz, running Windows 2000 Professional. I have had a few episodes of the PC freezing up with this, but still cool. - May 12, 2002 by Tarek Nahas
Slick - The visuals are very slick, and the interface 0wnz m3h. It got boring after only a couple minutes though - once I'd seen all the presets, there was no reason to keep watching it. And despite what other people seem to think, the music response isn't all that good - so it jiggles around a bit with the music - so what? For originality, variety, and beat-detection, Milkdrop beats it hands-down - May 11, 2002 by Krash the System
The Best I've Seen...And I've Seen A Lot - In my forever search for the perfect vis plug-in, I believe that I have stumbled upon a plug-in that nearly matches my picky tastes. The biggest features I have to applaud are the beat detection and transitions. In the past vis plug-ins have tried many techniques in perfecting beat detection but with very little success. I have no idea how this plug-in does it, but it has a very impressive beat detection. The transitions are awesome. They are fluid and timely in just about every song I play. The 20 scenes are great, and I can't wait for more. The winamp bar within the program is an awesome idea. I always find myself switching back and forth in order to play particular songs, and this reduces the steps need to accomplish this. The only beef I have, and it's not that bad, is that it cost a bit of pocket change to get rid of the watermark. However, if that's what it takes to encourage quality programming, then so be it. Basically, this is the best plug-in that I've found in my quest to find the perfect plug-in. Props to the creator. - May 11, 2002 by Kellen Wiggins
Awesome visually - I love R2 extreme, extremely polished interface, good controls and spectacular visuals :) Only criticism is that it is not the most responsive vis to music. Milkdrop is more responsive to music but less spectacular visually and i like milkdrop's ability to display the whole playlist on screen. I have both R2 Extreme and Milkdrop installed and use both not sure which I prefer, they are both great in different ways :) - May 11, 2002 by Bruno Scalera
oh my gooshness... - i still think about how it can fade with that cube trick...who cares if it doesnt look like its actually following the music,you wont be concentrating on the music once you get the plugin running.....crashed the first time i ran it tho,so watch out... - May 10, 2002 by Tai Chow Sing
Unregistered! - There should have been some other way to the author gets his money, without that boring unregistered logo. This way I can't rate it,'cause I ain't gonna use it! Take this logo out and you'll get all the stars it deserves. - May 9, 2002 by beth matos
Paying for it is fair enough - We get to see it working, 100%. The register thing is so club owners don't get to use this for commercial purposes, as I wish to do (clubs and bars). And it is fair enough. Gordon, you may remember me. I asked you to make the R2V2 with the 8 configurable buttons, instead of just two. Well, this plugin is stunning, and professional mate. It could still have auto change for the 8 images/texts which would make it perfect for my use if I ever get round to doing what I wanted to do!(tv projector ain't cheap) This has taken 3d vis to another level I think. The other plugins are great, but this one definitely climbed to the top. If you get your pc running right, (I got 1gig AThlon, 500 meg, ata100, GF2mx) both this AND Jet are amazing. You need to tweak your cache with cacheman AND install idetool if you got VIA chipset, and make the vis priority high in the settings menu of winamp. I am happy with the unregistered sign if it means I get to see something for FREE when the author wants to actually sell their work. Think of it like art. You get to SEE the Mona Lisa for free, but you can't bloody well HAVE it for nothing! - May 8, 2002 by Francis Guidera
Its awesome, but... - The grafx are awesome, man! GJ, but... I gave it 2 stars instead of five, cux u gotta pay 4 it... if it was free, I would have given it 5 stars for sure. I actually like this as much as Acidspunk II, but cuz asII is free, i like it more. you should at least remove the "unregistered" part, maybe I'll consider an extra 2 stars... - May 6, 2002 by Vincent Huisman
??????????????????? - wot is this? - May 6, 2002 by Suraj Parmar
Help - its ok but my gf4 goes crasy on it it works mad slow with p4 1.7 and gf4 help!!!!!!!!!!!!!!!!!!!! - May 6, 2002 by roman g
Excellent graphics - The graphics in this are nothing short of astounding. As a fellow plug-in creator, I applaud your success in creating a truly wonderful in-plugin mouse controlled menu. The graphics are near-scene-demo quality. Excellent stuff. My only request and the only thing that kept me from rating this a 5 was an apparent lack of responsiveness to the music. The objects definitely liked to bounce, but it wasn't readily apparent that it had very much to do with the tunes. Other than that, this is a phenomenal plug-in. Thanks! - May 6, 2002 by Joseph Sola
SO FAR DA BEST!!!!! - This plug in is sik!!!if ur unshure if u should try it, believe me, u wont regret it- just a little advice= u need a pretty good pc!!but otherwise its sik. This is the first plug in which i have seen that actually moves to the beat of the music and the visuals are sik!!!!! GET IT NOW!!!!!! - May 6, 2002 by Andrzej Jasionek
Awesome!! - This is absolutely this most awesome visualization available!! It is brilliant, and works perfectly with my video card (NVIDIA Geforce 2). If you liked the old R2, you will love this one ? New effects, more adjustment opportunities and a better look! Download it now!!! - May 5, 2002 by Mads Jakobsen
Polygons on crack! - Holy Crap, I crapped in my pants this plugin is so good. - May 4, 2002 by David Miller
New Version! - Wow, a new version in so few days!? All the R2 plugins are amazing, but this new one is ultra! Unfortunately the "unregistered" logo is still there, so I'll continue with Tripex and KataFX, what doesn't means that I will leave it behind. And what happened with your opinion Mr.Borg's, that changed so radicaly? Did you get a FREE key? I'm thinking in downrating it too, so who knows? - May 2, 2002 by joaquim jardim
_--=>>This plug-in is it really worth to download>> It is the only Plug-in wich makes it possible to do a time ride/warp/journey while using it; I start this plug-in at Midnight and I stopped this Plug-in when I thought it would be run only ten minutes, but it runs til six o'clock, wooow. Super!!!-------------------------------------------------------------------------------------------------------------------------->>> It is really worth to buy the registered version atshop.rabidhamster.org, too. - May 2, 2002 by Borg Number_One
this rocks - awesome visuals, very good sync to music and options galore . works great on my geforce2 and 3! - May 1, 2002 by Thomas Maxwell
Mr. - If you were only going to download only one plug-in, make this the one! - May 1, 2002 by David Nguyen