>
Visualizations

>
Visualizations
R2 vis
Featured Plugin.
Featured Plugin.
A Multi-scened 3D plugin. Good beat detection, VERY customizable, and good for Nightclub stuff. Well worth a look. An OpenGL Plugin, very quick, with good graphics. Scenes fade between to keep the beat going, and there's an in-WinAMP control menu so you can switch songs if you get to one you don't like. Features a load of new tweaks, and has been seriously Beta-tested (Voodoo cards may not work due to their shoddy OpenGL support). Check out http://winamp.rabidhamster.org for the newest version and other wierd stuff.
Download visualization
| | | |
| --- | --- | --- |
| February 1, 2003 by Gordon Williams | 988393 downloads | |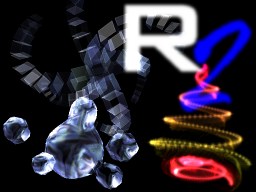 Staff review
Flavorful 3d visuals
The new more thouroughly tested version of R2... featuring some fresh new tweaks. A very nice visual plugin that should be downloaded and seen for yourself. Shiny and enticing sparkles will morph and twist into sexy 3d shapes right before your eyes. Worth looking at.
Comments
SWEET!!! - Works great on all my pc's. Even my Window Vista Laptop running winamp 2.91. - April 5, 2008 by Alexander Farmer
Simply the best - Simply the best (along with R4). Someone actually understands OpenGL. - March 31, 2007 by Chris DeLucia
*GASP* Download this viz right now!!! - as a techno/dance/club music freak i must say that this viz is the best ive seen!! its so hott lol its the best with dance and club stuff but its good for about anything... you must Download this thing it will keep you entertained for hours! - June 13, 2004 by Pinky Smith
Wow. - I LOVE this plugin! The visuals are so... entrancing, wonderful! I especially like the text announcement feature, I plan to use it for lyrics. If you haven't downlaoded this, do it now! - July 21, 2003 by Elizabeth Tankersley
Best f*cking vis I ever downloaded - This is really cool, keep it up Gordon, your onto a winner now. - July 9, 2003 by Sean Kelly
Great Vis - Some people seem to be saying this vis runs slow. On a Duron 1ghz, 384MB SDRAM, Geforce FX 128MB Ultra (odd setup i know) it's constantly above 60 fps so i cant see how people with fast athlons and p4's with good graphics chips are getting bad fps unless they dont have decent video drivers installed. ;) Rob - July 3, 2003 by Rob Morgan
Yet another comment - i dunno what exactly the guy with this Athlon 1Ghz configured to get 3FPS, but on my p3-550 / GF440MX it ran @66FPS with the recommended 800x600x32. nice visuals, could be a bit more postprocessed ;) nice!!! - March 25, 2003 by guybrush threepwood
what a load of rubbish - my wee girl wrote a better plugin for winamp than this. her name is chaz and she is only 2. fae ando - October 3, 2002 by fred west
OK.. - It's good, but there should be more effects... - July 28, 2002 by Noel - ?\_/?\_/
Suuuuuuuuper Great - It is the best i've ever seen, really my favorite. Come on, do you want a nice vis? Download this right now. - June 30, 2002 by frank van leeuwen
R2 vis - The finest plug-in winamp has to offer. You shouls see it with duel 1.8 Athlons and a Geforce 4. Great Job man. Kyle - May 24, 2002 by Kyle Piet
cool - if you have not got this as yet, then get it now. Its very cool - May 15, 2002 by jeff shepherd
Excellent Plugins - At least 30fps on an Athlon 800 at all times with very good visual effects to boot. Don't you just wish the AVS was like this :P - April 28, 2002 by Mr Gabriel
Too slow. Regardless of RAM - I think this'd be a badass plugin if it'd work. I have a prob in that I've got an NVidiaGeForce and 384MB RAM and a P3750. It's 2 frames a sec. rrrrright. And that's on 640x480 rez. I think I'll go to some others... - March 27, 2002 by Kal El
GREEAAAT PLUG IN!!!!!!!!!!!!!!!!! - This is a REALLY good plug in. I enjoy getting stoned sitting back with some Drum and Bass and watching R2!!!!!!!!!!!!!!1 - March 15, 2002 by Jill Nicholson
Nawhaha... - ha! My FPS is 12 (fullscreen, 860x680) and I have only 333 mhz and 168 RAM :) No slowing down! Great AVS: fast and looks really great! Nice work!! - March 7, 2002 by ilari ritakallio
low end users...your in luck!!! - i have an AMD k6-2 300 with an original Nvidia tnt...and this is BY FAR the BEST plug in i have seen out of over 100! beat detection is AWESOME. it keeps up with FEAR FACTORY BASS! i didnt know my simple computer could do this. get it and get lost! - March 3, 2002 by phil d
Dazdodger gav it 4 points - Ok This is great but with Xp it dosnt work well it dus but f***** slow I got A P4 2Ghz 512MB And A G-force3 WTF - February 12, 2002 by Thomas Zemlicka
Me loves it. - This plugin gave me the strength to quit drugs!!!! Well, no. Not really. I still do drugs. But it rules none the less! - January 12, 2002 by Mike Thiesen
THIS IS MY NUMBER 1 PICK!!! - YEAH!!!! I LOVE THIS PLUG-IN. A BIT SKETCHY WITH WINAMP3 BETA (BUT THAT'S TO BE EXPECTED). LOVE THE BASS BEATS TOO! THIS IS A PLUGIN THAT YOU CAN TURN ON, SIT BACK, AND JUST WIG OUT!!!! - January 7, 2002 by Bill Jenkins
High quality work - It looks spectacular, has a very nice interface and responds pretty well to the music. - November 24, 2001 by Nicolas Ivering
really good - Fantastic effects and great options menu!It's on top! - November 10, 2001 by Csaba V�raljai
Neccessity - Had enough of Giess type plug-ins. This is the new generation. God knows how this will be bettered. Water effects, and that SnakeCube is the best thing I've had on my computer. The best thing about it is that (for some reason, unknown to man) it does not need a hi spec computer, runs on old video cards, etc. It should be rated the best vis for Winamp. - November 8, 2001 by Peter Nickson
OUTSTANDING ! ! - The SMOOTHEST plug-in I have ever seen! The transitions from one visualization to another is FANTASTIC. The visualizations themselves are INCREDIBLE! The ONE & ONLY visual plug-in that everyone raves about! OUTSTANDING work ! THANKS. - November 6, 2001 by Ron Stryker
Simply Orgasmic - Great visual effects, easy to use options menu. Top notch program - November 6, 2001 by Otis Begotus
KICK ASS - The way the shit fades out is awsome and it keeps the beat better than most plugins so all to gether this plug in Kicks fuckin ass!!! - October 29, 2001 by chris brown
Nothing Even Close... - This plugin has to be one of the best I have ever seen. It has a high fps, excellent beat detection, and really nice and easy menus. Nothing has been overlooked here! Download this one immediately!!! - October 29, 2001 by Adrian Scott
Great! - Wow! This one rulez! It reacts really good to the music =) - October 26, 2001 by Hans Peeneman
great work guyz !! - This plugin is perhaps the only one I'll use longer than one night.. really cool visuals, fantastic concept (with all the controlling and online-customizing). You have to be a genius to code this one!! - October 25, 2001 by spiritus incensus
R2 v2 - Go to HTTP://WINAMP.RABIDHAMSTER.ORG and download the latest version from there. Features 4 extra scenes, and much, much trippiness... - October 25, 2001 by Gordon Williams
the greatest - This is by far the greatest visualization plug-in I have ever used! - October 24, 2001 by Greg Victor
Very good stuff - I'm glad to tell you that you designed a very good plug-in. We had a party e few weeks ago and everybody was surprised about your plug-in. What should I say? Make an other one!! - October 24, 2001 by G�nther De Greve
yes yes - Fuckin sweet! - October 22, 2001 by John O'Boyle
Damn, this thing is realy good! - Wow, much better when the first version. If you are looking for something to refresh the party - use this one! Though I found some conflict with previous versions: if both of them installed - winamp is freezing sometimes... - October 21, 2001 by Alex Chemezoff
Vis is very good - This is awesome. check it out now. worked perfect on my system. i have over 500 mb of ram, run windows xp and have a 32 mb ati rage pro graphics card. - October 18, 2001 by HyperZell -
Ohmygod! - This is the best plugin I've seen in ages!!! It's brilliant. The original was great, but this takes plugins to new levels. See what you can do with 3d cards! Far better than that AVS rubbish! - October 16, 2001 by Phil Hellary
Nice! - i got up to 220 fps. Nice! I use a NVIDIA TNT2 and it works great. - October 14, 2001 by Mark Masztalerz
this rocks, flying frame rate - This Rocks! I don't know what you lot are on about with low frame rates, I'm getting 200+fps @ 1600x1200 with my Duron 700 and Gf2GTS in WinXP, altyhough I have seen it run badly under 98. The spider thing is wicked but could do with perspective or defocusing so you can tell which arms are futher away, and maybe a nice smoke effect would be cool too - October 13, 2001 by leon derczynski
3 FPS - This sucks - 3FPS on my Athlon 1Ghz???!! Shitty graphics, too! - October 12, 2001 by the bikeman
NICE EFFECTS... but! - Sweet effects... but not-tight code i suppose. I am getting drops into the low 20's and peaks in the 80's on a Tbird 1.4 DDR... there should be no drops. But NICE job on the effects, and it ran pretty smooth on everything but the original effect scheme thingy... i wonder why that is? the original ran fast on the same effect... feh - October 12, 2001 by Russell Culpepper
Update plugin for winamp3 - Plugin OK with winamp3. Commands not working (into the plugin plau stop next previous, volume, seek) Make me happy again purchase the update for winamp3 - October 12, 2001 by Rorry Rorry
Niiiiiiiice! - Nice to the best of my knowledge that is; due to my 400mhz processor it runs @ approx. 5fps in spite of my 320mb of ram and 32mb video card :( i'd imagine this would be VERY nice with a faster processor - October 12, 2001 by Josh Ibach-MacKeen
Awesome... - I've got a Athlon 900 mhz and a Voodoo3, and this baby runs slick as butter on a hot grill... (okay, that was lame)... The only plugin that runs acceptably at fullscreen (1600x1200) for me, and the only one that runs amazingly at 800x600. Nice job all around. - October 12, 2001 by Derek Boge
Amazing - I love how this plugin combines 3d shape effects with color blending effects. Very nicely done, it even changes the rate at which the scheme changes, keeping you more entertained. The effects themselves are all top noch, nice work! - October 10, 2001 by Adam Valois
frickin' amazin'!! - never a dull moment, great customization, and all-round WOW - October 6, 2001 by Chris Young
Very impressive - This plugin is very impressive. I especially like the "SnakeCube" scene. If you don't have anything better to do I urge you to download it. You won't be disappointed. - September 29, 2001 by Phil R
Quite a nice Plug-in - if this is what you do out of shear boredom then I can't imagine what you are truely capable of. I'm sure you read this forum every now and then to see the delighted peoples' reactions, and yes i'm consistent with the rest, I love this little show entertained on my monitor. give us another soon to oogle over :) - September 21, 2001 by Victor Dman
works great on voodoo :) - on my g/f comp runnin intel pos III 550mhz with a voodoo 3 card , works great. keep up the good work :) - September 18, 2001 by joel gorby
Good plugin!!! - I think it's a really good plugin, i got up to 110 fps on my 1.4 ghz. with the geforce 2 it's really good - September 14, 2001 by nst tim
ONE OF THE BEST 3D-PLUGINS EVER! - MAN THIS IS ONE HELL OF A PLUGIN. WISH THAT THEY COULD ADD MORE SCENES. ^^ - August 31, 2001 by Louie Yabut
WHOA!!! - After mocking around with other plugins and getting really excited when I finding one where the fps can get above 20 when I lower the fullscreen-setting to 800x600... and that sucks... I finally found this plugin... Now I'm running beautiful grafix with a really good beat-detection in fullscreen (1024x768) and the fps is above 100!!! At a maximum the FPS was at 160. I love this plug-in. - August 29, 2001 by Sam Persson
I'm sure it's nice but ... - This plugin looks fantastic for 5 seconds until it closes for no apparent reason. I have run a great number of plugins and never had this particular problem. I sure would like to see more of it :( - August 27, 2001 by nathan kring
The tightest winamp plugin - I hooked this up to my good projector and hit it on the wall one nite, OMG! I must say it is the most impressive plugin I have ever laid my grubby little figners on. Gordon Please contact me about doing possible web design. - August 24, 2001 by shaun sohacki
Err... Wow! - This plugin is just totally awesome. The graphics are smooth, and fade together, and there is good beat response - I just sit down, and can watch this for hours! - August 17, 2001 by Fred Smiths
BLOODY GOOD - try this with livesets like ATB Live @ Summer Rave 2000 or Ferry Corsten Live @ Trance Energy the bass really brings out in the plugin if u dont download... u miss out big time! (Need decent 3d card 'n processor) - August 16, 2001 by Anthony Tang
THIS KICKS ASS - This is one of the best plugins I've ever seen... it does get a lil repetive though. - August 10, 2001 by Jeff Hardy