>
Visualizations

>
Visualizations
OGL Motion Analizer
A bar analyzer with motion blur effect among others
A bar analyzer with motion blur effect among others
For help, press 'h' at run time.
To setup window size or fulscreen go to the winamp's plugin configuration.

NOTE:
If the plugin doesn't appear in the plugin list just press CTRL + SHIFT + k and the plugin will start (it's a bug).

If the plugin doesn't run, install the latest .Net Framework. In some systems this is not need but it has happened in one or two test systems.
Download visualization
| | | |
| --- | --- | --- |
| May 22, 2006 by Domingos Freitas | 48374 downloads | |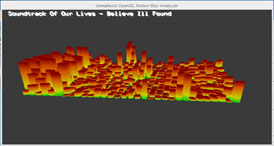 Staff review
This plugin is untested, as our plugin reviewer does not have all the nessesary components installed.
Comments
Effective Use of 3rd Dimension - I world of flashy stupid 3D visualizers and robots(I don't even know why the scientists make them) this stands out as a simple 3D Spectrum Analyzer that actually gives a concise output of a space in time of the audio, not just an instant. I'd like to see a better fullscreen and an option to turn off the blur. Making it so all the toggles were available on the number pad instead of just a few would be nice. - August 10, 2007 by Rockman X
Good Start - Crisp and smooth with some nice motion blur effects, but lack of customisation, user options and full screen pull the rating down. I would like to see this plugin a few versions down the line to see if the author has added a user interface. - July 3, 2006 by Matthew Dimmick