>
Visualizations

>
Visualizations
Luminglass
Arcs of plasma across your screen
Arcs of plasma across your screen
Here's my little contribution to the world of Winamp plugins. The plugin is designed to mimic the behavior of an electric Luminglass panel. I hope you enjoy it.
Download visualization
| | | |
| --- | --- | --- |
| January 29, 2002 by Mike Thiesen | 127252 downloads | |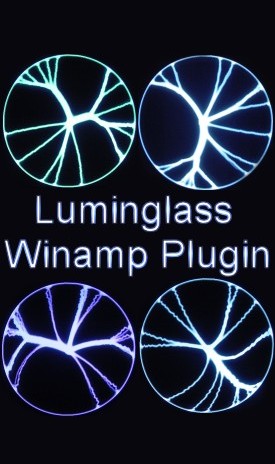 Staff review
NIfty visual plug-in
Makes for a nice visual to have playing in the background... it's relatively straightforward and probably won't blow your eyes away...but, it's definitely solid and does what it does well. Nice configuration options too.
Comments
Something from heaven - I have used this plugin from the moment I found it. My computer has been running non stop day and night with this pluging on it. It provides me with the peace and tranquility I need in order to survive on this planet. Luminglass has truly showed me the path to living live to its fullest. I am positive that if The Lord GOD stepped down on earth and wrote a plugin, he would without a doubt name it LUMINGLASS. - February 2, 2002 by Ashish Kapoor
Like a breath of fresh air - I though that I had seen 'em all... now this comes along, and it shatters my preconceptions of what the world is like. I suppose now I'll have to readjust my world-view, but with Luminglass as my guide, I sould be able to make it to enlightenment no problem... - February 1, 2002 by Anthony the Destroyer
boring... - too simple and only for full screen... not many choices... needs lots of improvements! I think a windowed mode can be good for a luminglass v2. :) - January 30, 2002 by Vangelis Sterpis
Simply Amazing - Before I saw this amazing plug-in, I was Struggling with crack-cocain and several other Hard Drugs. One day I came across this amazing plug-in, and it gave me the strength I needed to fight my addiction. Thank you Limunglass! - January 30, 2002 by Darren Thiesen