>
Visualizations

>
Visualizations
Lightspeed Visualization
Featured Plugin, October 24, 2002.
Featured Plugin, October 24, 2002.
Just something I made... I made this while learning OpenGL programming. It has multiple scenes and a couple of fancy transitions between them. Enjoy :)
Download visualization
| | | |
| --- | --- | --- |
| February 1, 2003 by Andreas Hammar | 198059 downloads | |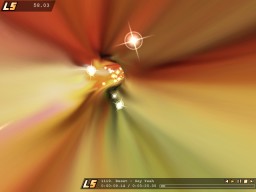 Staff review
Very smooth visuals
Clean visuals here.... the interface is also really slick and nicely done. You have full control of Winamp's play/pause/song progress while in fullscreen visual mode. The visuals themseleves are very nice; it would be nice to have more presets tho. Ran fine on my desktop; but, it froze and crashed my laptop (p3 1ghz, win2000, geforce2 32mg, dell inspiron 8100) to the state where I had unplug it and take the battery out to restart it. Hopefully it was a freak occurance and no one else experiences it.
Comments
Nice - I like it only thing is that some of the text is blury. Might be just me but i have a pretty good graphic card. - September 2, 2004 by Trauma Zaun
Umm Crash? - I'm sure it would be great if it didn't crash my winamp. I use Winamp2...does that matter? - October 10, 2003 by Aaron Johansen
Very original, but only a few modes - This is a very original vis. The effects frood. The only downside is that there are only a few effects. - August 28, 2003 by Stuart Bury
sweet - I love the tunnel preset but I do think the sound response could be a bit better. - July 30, 2003 by Matthew Rozier
Crashy - I changed the screen res to 800x600....it not only crashed winamp, but somehow my start menu is a blank black box when it pops up. Also cant get into my C: drive from "My Computer". (FYI: I have a Dell Dimension 8200 Pent4 with a G-Force 3)I guess it looked kinda cool for the minute I saw it. After my downloads are complete, I'll restart and see whats what. Theres a first time for everything. Good luck, all! - November 12, 2002 by tom Gilbert