>
Visualizations

>
Visualizations
LCDisplayer
LCDisplayer v1.1
LCDisplayer v1.1 - Display various information on an LCD panel
Displays all kinds of information about the file Winamp is playing (title, track time, bit rate, sample rate, etc.) on an LCD panel (with an HD44780 compatible controller) connected to a parallel port. Will only work on Win95 and Win98. The display is fully configurable and has the option for a spectrum analyzer (logarithmic or linear) or oscilliscope visual display. There is an LCD simulation window mode so no LCD is needed when trying out configurations.
Download visualization
| | | |
| --- | --- | --- |
| January 10, 2005 by Mike Lynch | 170297 downloads | |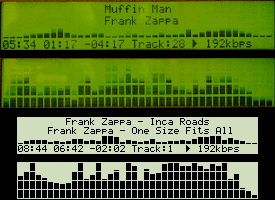 Staff review
Niftly little plugin to send Winamp info to an external LCD display (requires Win95 or Win98)
Allows you to display current Winamp track information on an LCD screen. You'll need an older OS for this to work tho (Win95 or 98). Also gives you a Windows preview simulation of what the LCD screen will look like.
Comments
absolutely love this thing - When I've got this running, I end up ignoring Winamp proper; I wanted a minimal skin and none of them had what I wanted... they were all too stylized. I've got this plugin customized with everything I ever wanted in a skin, and it's more visually lightweight and readable than any other Winamp skin I tried. Well done!! - March 24, 2007 by Doug Scofield
Good plugin - I love the screen shot. Frank Zappa's Muffin Man. Excellent choice - August 4, 2006 by raul torres
The best vis plug-in ever!!!!! - I ( think) i tuned it. http://usuarios.lycos.es/skripter/vis_LCDisp.ini - December 19, 2005 by Rodrigo Barreda
Cool - Wiered and unique - August 23, 2005 by Roshan Menezes
LCDisplayer - This plug-in is bad ass.. im running winamp 5.0 with dee3 plugin on a windows xp sp2 based machine with all udates and it works great....5 stars people - March 30, 2005 by nathan boone
Bitchin' - Not having an LCD display thingy, i think that rocks at that size!!!!!! - February 11, 2005 by Joseph Ruggiero