>
Visualizations

>
Visualizations
Jet v1_1
Featured Plugin.
Featured Plugin.
Ultra responsive full color plugin with 3d effects. Jet combines traditional 2D feedback effects (ala geiss) with some 3d effects if a 3d accelerator is present. It has been designed from the ground up as a full color plugin, and is ultra responsive to incoming music. At least an MMX processor is required, however the plugin will take advantage of special optimisations on Intel PIII/IV/Celeron2 or AMD Athlon/Duron processors. Whats new in v1.1:- Fixed bug where jet would not appear in the visualisation plugin list- Optimised 3d pipeline (esp. on nVidia cards)- Added support for Hardware TnL- New 3d effects (Spectre and Displacement Vortex)- New Transforms (Turbulence, Polar Flow, Melt and Distortion Swirls)
Download visualization
| | | |
| --- | --- | --- |
| February 1, 2003 by Rowan Wyborn | 1661702 downloads | |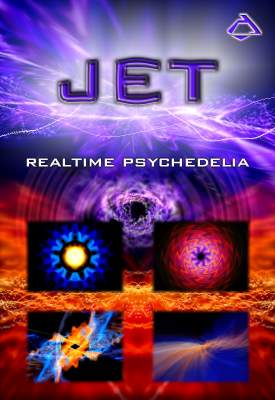 Staff review
Jet visualization plug-in
This is definitely a fine tool to satisfy your optical needs. Solid plug-in with a good amount of original visual flavor to dazzle your eyes for long amounts of time. If you feel like allocating all your reserves to your eyeballs and becoming an optic zombie for the day, then this will help you along your way to hypnotic bliss. It's definitely wasted time well spent...haha...visual plug-in fans know what I mean. -dg
Comments
stunning - This is a stunning vis. had it running on my 17inch laptop sat on my chest in the dark... all i can say is WOW.. great work! - May 16, 2007 by dean ward
Perfect - This is ever never best vis for winamp I had saw - April 29, 2007 by Good XY
Thumbs Way UP - Totally AWESOME dude. Morphing between subtle and stunning ORIGINAL visuals (not seen in Geiss or whatever) and standard visuals, This Thing Rocks. Especially the transitions are really smooth. - September 28, 2004 by Pieter de Goeje
still rocks - I first found jet some time ago, then along came version 1.1, and after checking out many other plug ins, jet is still my most used Visual. It rocks, yes. - June 30, 2004 by paul_the_slug bryan
Absolute Greatness! - I've had this plugin for a long while since it first came out and it's amazing - tho I would EMPLORE the author to make another! - I know it's hard to beat something this visually amazing - but PLEASE try :-) - November 28, 2003 by Jim Leach
spiffing - this is the best one t download 10/10 very imaginative n colourful. kept me entertained for ages. this is proper buff!!!! - August 10, 2003 by ann barker
Locks like a zip lock bag - 9 1/2 out of 10 times this plug in will freeze and lock up like a Zip-Lock-Bag. I've never known anyone to actually get it t work with out issues, even on strong, stable PC's. - May 4, 2003 by Clinton K
Jet > All - Still one of the best vis on the site, though it's showing its age with small bugs on the newest hardware. C'mon, Rowan.. give the update it deserves! Or at least fix the spin-slowdown glitch. :b - January 17, 2003 by John Berryhill
amazing!!! - very good work, rowan!!! if the preferences are ok, then it runs perfectly. i got the best results with a good beamer on three transparent big screens disposed shortly in a row. the party-people love it. sometimes it seems that they can't trust their eyes about the 3d-effects. thanx a lot!!!!! - January 3, 2003 by frank berger
p.o.s - It works for about ten seconds then quits! when it works it looks good though.... - August 8, 2002 by Robby Pace
Yep, still one of the best. - I keep revisiting this site. But Jet is still one of the best, and it has been here for ages. One of the best ways to make it run real fast, is to (if you have LOTS of memory) disable Window's Virtual Memory. And also, using a freeware tool, cacheman, set cache to power user. Then you will see it flowing! And all those people with VIA chipsets on your motherboards, make sure you got IDETOOL running as well, for top notch performance. And it DOES keep the kids quiet! We got 5 year old twins, who are silent when this is on. They just chill! And it is NOT GEISS. Geiss is good, but less colourfull, and not as interesting. - August 1, 2002 by Francis Guidera
It's Geiss. - Nowt more to say really. Get Geiss and have more fun. - July 13, 2002 by Christopher Woods
TOPPER - No problems found with this and it looks great and I only have a 633mhz machine with an outdated voodoo3 and 256mb ram Keep rocking - July 2, 2002 by TOM TOPP
How to make it run faster - In order to make it faster in 32 bit color (30+ fps at 1024 * 768) , you have to make sure that both your vidcard and motherboard support Fast Writes. Use WCPUID to check whether you have this feature enabled or not. - July 1, 2002 by Andrez V
Hands down the best. - I have taking the time to download, and delete, just about every visual plugin on this site. This is the only one that can keep my attention for more than a view frames. Great work Rowan, please make more! - May 25, 2002 by James Pickwick
zzzzZZZZZzzzzZZZZZzzzz - tere ist nothing special to say - May 21, 2002 by Giant Ursus
Nice! - It's a nice plugin, but it can't be compared with others like Acidspunk, Tripex or KataFX. - May 8, 2002 by reynaldo paes
I agree... - with Ilari. (do what?) - April 30, 2002 by joaquim jardim
Impressive - This plug-in rocks. It seems to have the best qualities of G-Force and Acidspunk, but there's definately some new effects here too. The 3d visuals add a nice element. I can watch this one for hours...... - April 19, 2002 by Mike Scofield
Good - Good plug-in, but has too few visuals and options. - April 5, 2002 by ilari ritakallio
A Great Vis - This is great; it's my favorite vis. - March 12, 2002 by Gordon Baird
INCREDIBLE - This plugin is amazing. This guy really knows his processor intrinsics! I think the speeed of Jet is comparible to Geiss (no nice 8-bit error diffusion dithering thou) The 3D effects compliment the visual feedback perfectly. Nice one Rowan. - March 5, 2002 by Ben Spencer
Wicked! - Been downloading viz plug-ins all day, and this one rules, once you get the rez and color depth set up right for your machine. Awesome. - February 6, 2002 by Sheena McNally
Sucking! - It sucks me right in my screen! Absolutely great, I can hardly stop watching it. - January 30, 2002 by Jack van Maas
This is GOOOOUD - Can it get any better? I've been playing with this for about 2 hours. Didn't see a repeat pattern. I like the toggles and configuration. You have to get this one. Runs fine on my display when configured to 640 x 480 32 bit. However when configured to 1024 x 768 32 bit it runs slow and in jerky steps but I suppose that could be my video card. - January 30, 2002 by Fred Willson
AMAZING MAD PLUGIN - ignore the criticisms, this is co-ol. after a few tunes, it seems to spread out and goes totally all over the place. VERY imaginative! - January 22, 2002 by lemonzorba ###
illegaldrunk says: - that is a sick plugin. i like it because... i just do! - December 20, 2001 by jeremy tomashewski
it blows. big time - its good, but i dont know what the hype is about. It really isnt anything special. The Rave Plugin is way better than this piece of worthless data. Dont download it unless you want to fill your computer up with useless plugins. - December 6, 2001 by Dave Emm
Mmmmm... - Tasty visuals. - November 23, 2001 by Kevin Gadd
Meet my friend, Mr. Eyecandy - Oh yes indeed, this is pure eyecandy. Does what you think it'll do, and it delivers the goods in style. - November 20, 2001 by Arve Siitonen
How can you not like it? - This is by far the best plugin for winamp. You will never see the same thing twice, and whenever there is an effect transition, oh what a show. I could watch this for hours. - November 6, 2001 by Terrible Lie
killa ! - this is a bom plug I hope you enjoy it cuz it rocks its trully great and I gotta say WHAT A MIND FUCK !!!!!! - October 30, 2001 by ghostface killa of wu tang
it's ok - jet is okay...but it lacks some power on some video cards. tip #1: MAKE IT MORE COMPATIBLE!! i have a geforce2 mx..and it has 64mb of videoram..so i don't see why jet doesnt allow me to use 3d. fix that and you'll get 5 stars - October 27, 2001 by Michael Hahn
Simply the better - THE plugin !!! - October 25, 2001 by Red Ass
How Awesome Can You Get? - I LOVE this plugin, it is seriously sweet, you can do so much more to it than Geiss (for example), the colours are lush, it's just amazing! - October 25, 2001 by James Herbert
This FU**'IN SUCKS! - one thing happens in this! It has bad color! It couldn't be any worse! - October 20, 2001 by Leif Heflin
Excellent - Definately one of the best I have had the pleasure of using. Everyone loved the change. Definately a good step away from the vetrans G-Force and Geiss. Great Job. Thanx - September 23, 2001 by Visual Impressions
Grab your ticket for this - If you want the best in visual "JET" is it.You dont have to change a thing just sit back and enjoy this.Go full screen with this baby and knock the lights down, youve got to see this one to believe it!!!!!.Thanks for a wonderful imagination and plugin. - September 18, 2001 by DON GRADY
Still the best - Jet is still the best Visual Plug-in 4 winamp, it kicks ass, best 3d effects ever for a winamp plugin. Don't get lost from the reality ;-) - September 10, 2001 by Alex Twist
Godlike... - This is what computers are for. Thats all I have to say. - September 2, 2001 by Harold Hausman
THIS IS COOL, BUT GEISS IS BETTER !!! - This is a pretty cool plugin, but it doesn't have - near the clarity that Geiss does, and that's why over 150,000 people have chose to download Geiss over Jet - August 28, 2001 by Mike Conboy
Impressive display - Great displays, though not that fast, and can't be run in any other mode than fullscreen. Worth a try; I'm keeping it. - August 24, 2001 by Thomas Jackson
Whoa - I sat there blankly staring at the screen listening to my favourite tunes, this thing is incredible... - August 21, 2001 by Wes Doe
Tight! - Hey, this is really sweet. Is there anyway to make it small? - August 7, 2001 by Mike Da-Man
Wow!!! - You put the music on; You sit back; You get blown away by JET You Chill - August 6, 2001 by Iain Miller
Jet v1_1 - this is awesome - July 7, 2001 by chris wright
Smooooooth!!!! - It slips,it slides,it sucks you right in....and its fast even in full screen with very sweet effects and colors....excellent plugin! - July 4, 2001 by diverse whatever
Kick Ass - This is an awesome plug-in! Although, it looks alot like MilkDrop. Yet not as good as MilkDrop. It runs a little skow though, even on 800x600. I hope to see an updated Jet with more presets. Keep up the good work! - June 29, 2001 by Dustin D.
THIS STUFF ROCKS - this is the BEST plugin ever created..... awesome..............i'm outta words... - June 14, 2001 by ivcho d
Instant Lobotomy - 1: Good fast paced music or trance 2: Mind expnading substances 3: Jet 4:............... 5: mamamamamamamananan........ 6: Hmmmmmmmmmmmm. good work my freind keep it up - June 7, 2001 by Cuban Bee
stuff - ok, to all who gots my bitchass emails, looks like im on. heh. messers wilderness an' minx, i says you gots tha flavour. yessir. think your brain can handle all you can throw at it- think again, punkstick. pump your mind with everything and then watch the tendrils of jet crawl out of the screen and flow over to that window over their- damn thing is superimposed on everthing i see. i can only type by rotating my head 360' on a horizontal axis, and my eyes the same, but in opposing directs. damn you, rowan wyborn, damn you to hell. you broke my head. ill get you.... i know where you live! - May 27, 2001 by Pipe-Hittin' Funkhauser
Hmmmmmm - I think it's a quite good try although I haven't download it. - May 26, 2001 by Zannis Kostalas
ultimate visuals - congratulations for coming up with a program that gives the most insane visuals to my very own choice of music. this program is perfect for those times when your reality has stepped left of sideways and you just feel like chillin. - May 25, 2001 by Bubba Minx
oh yeaaah - oh yeaaaah! - lovin' those crazy spiny woobly bits, i recommend every man, woman and child alike Download, Turn on and Tune out to this, the ubermensch of retinal stimulation - whether you've got an PII a PIII, an MMX, or just a whole bunch of THC, LSD and NOS, your brain will love you for this - May 24, 2001 by conrad wilderness (mr) wilderness
PURE QUALITY - Being one who seeks QUALITY in all things and who does not settle for less, I highly recommend this Plugin. It is the best of its kind. If you are like me, you will receive PURE ENJOYMENT from creating a venue for yourself where you can create a playlist, sit in a nice chair, sit back and relax. Turn off the TV. Sometimes, turn on JET instead. ~ T - May 23, 2001 by Tiz Dale
A good contender - This is a great plugin. It's fast and has some good looking visuals. However, there are only a few visuals. A bigger more random library would be nice. Also a few bugs were found on my machine. Some effects (Rotozoomer, Ghost in the Machine) would not show anything on the screen. More options would give this a 4. - May 15, 2001 by Taylor Oberst
too slick - too slick - May 12, 2001 by victor hoang
Jet - NO - It's not an ex-beatle song, it's the best darned VISual Plugin I have ever seen! Everyone I show this thing to is just blown away by the effects! The only problem: Once you start watching it with your favorite music-You may not be able to stop! - May 10, 2001 by bruce blosser
Really cool one - - May 5, 2001 by Multiflex W&M2001
amazing - one of the best plugins ever. i haven't encountered any bugs, nor has it crashed on my tremendously. though it doesn't recognize my 3dfx card (stupid 256x256 texture limitation), the program is fast and sports tremendous frame rates (65fps @ 640x480). trippy effects :) - May 2, 2001 by dave hsia
Excellent Visuals! - No problems here, this is an excellent visual! - May 2, 2001 by Clay Stallard aka Haywood Jablomi
Cool and run on a not "TOY-PC" - it?s the best fullscreen psycodelic 3D plugin i have plugged in my winamp-player. it?s running very good on my system: PentiumIII 750 /128MB ram/I810 chipset with onbard-graphic-set. for a while it?s stop it a litle bit, but this is the minimum ram on my system, ihope it?s better at next month - than i have 256 MB ram. - May 2, 2001 by Chris Treczok
Great for all ages! - Literally! I was surprised to find this plug in on my mom's computer a few months ago, and when I finally got around to downloading it, it kept my 3-week-old daughter so mesmerized for almost a full hour! Thanks Rowan Wyborn! You've given us an hour of peace and quiet! - May 1, 2001 by Mykie .
Bah! - This is one of the buggiest plugins I tested! It crashed several times, only a few of the video modes worked, the framerate was nowhere near Geiss, and I never saw anything that looked like the 3D hardware was in use. This was on an Athlon with a TNT2. - April 29, 2001 by Daniel Johansson
Very cool.. - This is my favorite vis plugin. Runs smooth and I can look at it for hours. Plus you can search/skip tracks while the plug-in is running - a big plus - April 26, 2001 by Richard Johnson
This is sweet - I think this is one of the best, (but of coarse nothing will beat AVS) But its still cool. It is a little laggy on my computer but its really cool. - April 17, 2001 by Paul Dudmenrotaga
Great plugin - A Geiss/G-force like plugin, but much more colorful. Some really beautiful effects in here, but not enough presets, and transitions aren't very smooth. - April 14, 2001 by Evan Clinton
MINTTTTTT!!! - This definately kicks ass on geiss, tripex etc etc blah blah becuz mainly it ROX!!!!! keep up the good work on the mint, TRIPPY 3d plugin!!!!!!!!! Andrew!. p.s. its my 17th today..well the 8th (yesterday damnit!) - April 8, 2001 by Andrew Rae
I can't say TIPPY, but this is damn Good - Ohhh, I think I just climaxed. Yes, this IS the dogs. - April 6, 2001 by Zen-X (Liam McLaughlin)
What else can i say??? - Well when i set eyes on Jet 1.0 i thought that my dreams for Plug-Ins had come true.. With the release of version 1.1... The dream lives on... this plug-in rocks and that is all i can say... a must for your collection. - April 5, 2001 by Mario C
Bad Ass - can you say TIPPY!!! - April 5, 2001 by jacob cramer
The best ever - This plugin kicks the ass of all others with no remorse. It better than any other plugin, hands down. If you liked the look of geiss then your goin to love this because it gives the graphics you have come to expect. Plus jet has the 3d effects built in. - April 4, 2001 by kyle youner