>
Visualizations

>
AVS Presets
Ikes Meltdown AVS
Amazing 3D Presets
Amazing 3D Presets
In this, my secend AVS pack to date, I made an entire set based on 3D DM's. And I'm not even kidding when i say that these presets will make you cry.
Download visualization
| | | |
| --- | --- | --- |
| March 13, 2002 by Isaac Delongchamp | 3070 downloads | |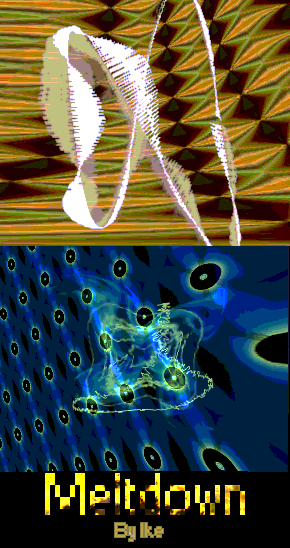 Staff review
Impressive visuals here...worth checking
Some very well put together work in this collection... great use of movement and layering... these presets really have a good feel of depth to them. Original stlyes and quality all the way through.
Comments
Disease... - Well, I'm becoming like you, changed my mind again. Go back to where you belong! - April 2, 2002 by reynaldo paes
Isaac???? - Are you the same Isaac? It seems you're getting the point. We, the ordinary avs lovers, are here only to try to motivate the artists to keep on rockin' and creating new and more fascinating presets every day. It's not true that I only rate with 5 stars all the packs here, like you said in the forums. But I prefer say nothing, than downrate somebody's work. I just rate the packs I like, so how can I give less than 4 stars? I just sent you a furious e-mail, after you mentioned my name in the forums, but fortunatelly (or unfortunatelly?)the message could not be deliveried, at least, until now. It seems that finally you're recognizing Mr.Tandiman's kind of work, that I admire so much, a long time now. Even with your review 'bout his iLove presets (works pretty cool in my computer), Tandiman made a sincere tribute to you (isn't very kind?). I hope that from now on you change the way you judge other people efforts. And here it goes the 4 stars that you deserve. (if you receive my e-mail, remember it was written when i was really angry with your unhappy comment 'bout me in the forums). Now do you know who I am? - March 31, 2002 by joaquim jardim
Da long champ - I never give someone less than 5 stars on their works even though it's not perfectly done, because there is a learning process no matter small or big their efforts was. Everyone has their own way to explore their sense of art. Isaac has a good amount of potential to do better than this. Yes, the name "Isaac" in my 'goodbye' preset is the author of this pack. A nice start, keep it up! - March 30, 2002 by Daniel Joe Tandiman
It Does Not Matter! - Hi Isaac. I'm gonna be fair. I'll rate your pack with the same 4 stars that winamp's staff rated it. I don't have any interest downloading a pack from a guy that gave 0 star to an artist like Tonic (i know you changed after) and 1 star to my favorite pack (and you changed after again). But as i can see, not many people are interested in your pack too. And I'm not gonna laugh like an idiot! I don't feel sorry for you. - March 14, 2002 by tais jardim