>
Visualizations

>
Visualizations
Gordon Plugs
Visual Plugin with two modules (NEW VERSION)
Visual Plugin with two modules (NEW VERSION)
This plugin has two modules. "Waveform Slider" : You will see a waveform whichtries to interpolate to the next position of the sampled data.It looks psychedelic. "Message for the Universe" : This shows a little satelite flight trough the galaxy.The answer is out there...
Download visualization
| | | |
| --- | --- | --- |
| April 20, 2001 by Andreas A. | 79860 downloads | |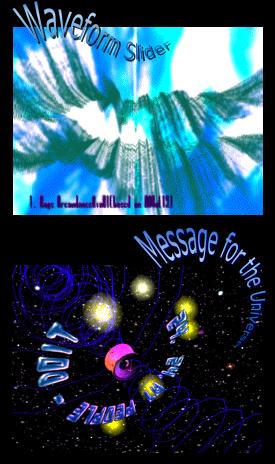 Staff review
This one (and Message for the Universe in particular) rules.
It's not ultra-trippy, but it's really fun to watch. The Message for the Universe was a little cooler in my opinion.
Comments
Error Message? - Great plug, but the first time I ran it I got a graphics error with grammatical mistakes in it. I fixed the error, but maybe the author needs to go back to English class? - February 5, 2002 by Glenn Osborne
not bad - needs more vis/presets - August 16, 2001 by Anthony Tang
Exciting plug - fun graphics but a little too tame. - July 3, 2001 by Jim Mathis
Taylor is God - kewlplugin, great graphics for a newbie. - May 8, 2001 by fickey fack