>
Visualizations

>
Visualizations
Gauntlet v101
OpenGL Visual Landscape
OpenGL Visual Landscape
Run the Gauntlet. Skim across the surface of a dynamically generate landscape complete with volcanos, clouds, fog, and even a little birdie.
Download visualization
| | | |
| --- | --- | --- |
| March 8, 2001 by nathan kring | 127429 downloads | |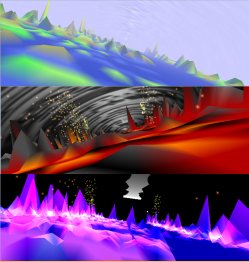 Staff review
Gauntlet 1.01
New version is definitely a good deal more interesting... nice color pallettes and visualization options. The fullscreen mode is a little buggy tho... you have to shut winamp down everytime you want to configure something while in full screen mode. At least that's what happened to me all the time. The plug-in itself is nice... it could use a little changing in terms of the camera angle/point of view... I think that would make thigns a bit more interesting. -dg
Comments
i don't know - idea is good, but i didn't like its visual effects, it could more analyze the sound, no offecse but it's more a scrolling graphical trip. - December 31, 2002 by Maros P.
great! - I was able to bring it in to school, my class loves it! - December 3, 2002 by Matthew Rozier
digitalapocalypse - This runs fine full screen mode comes down to a properly configured computer ha ha ha Lamers Add more to this and it could be great - July 30, 2002 by will smith
Not bad - The constant tilting makes me dizzy, would like a non-tilt mode - April 24, 2002 by James Preece
what is your issue - jesus some of you people bash on this thing. im betting you have suck video cards. runs awesome on asus NVgeforce3 v8200 series in almost any size. looks beautiful. small download, looks beautiful. EVERYONE NEEDS THIS PLUGIN. - February 28, 2002 by philip bawn
Alright - I've got a Pentium4 1500. On fullscreen this thing runs slow. Apart from that though, tis good. Interesting for a while. Well done! - January 27, 2002 by Nicholas Bertke
Great on slower computers - This plugin runs very well in windowed mode on my now-ancient P200. By "very well," I mean I can get about three times the size as any other plugin and it still runs twice as fast as any of them. On top of all that, it looks great. It would be nice to adjust the camera settings and have more control over the colors. Yet, even as it exists now, this is worth downloading -- especially for those of us with slower machines. - August 15, 2001 by Andrew Johnston
First Rule of Fight Club... - Nothing special here that we haven't seen with any other plug in - July 10, 2001 by Jason Vollero
Life - That's awesome! You can travel forever with no regrets! You are a born Happy Artist! Congratulations! - June 30, 2001 by Jane Righi
Wow !!! - I like the effect of flying at this speed. Very good plugins. - June 26, 2001 by Maxime Tessier
dg is incorrect - Gauntlet is fully customizable within fullscreen mode. Within the readme file that comes with Gauntlet a list of all keyboard shortcuts is listed. - April 3, 2001 by nathan kring