>
Visualizations

>
AVS Presets
Focus AVS Pack
18 presets that are well worth the download
18 presets that are well worth the download
OK, this is definitely my magnum opus, seeing as how I haven't had any inspiration since I used it all on this! I think you'll find it well worth the download, and you're bound to enjoy these optical treats. My particular favorites are Quantum, Nuclear Sunset, and Just Like El-Vis Taught Me. Credit: Frank Nagal, Dave DeSandro, Tuomas Kinnenin, and all the rest of the kind people in AVSociety and at deviantART!Enjoy!
Download visualization
| | | |
| --- | --- | --- |
| December 18, 2001 by David Hansen | 30144 downloads | |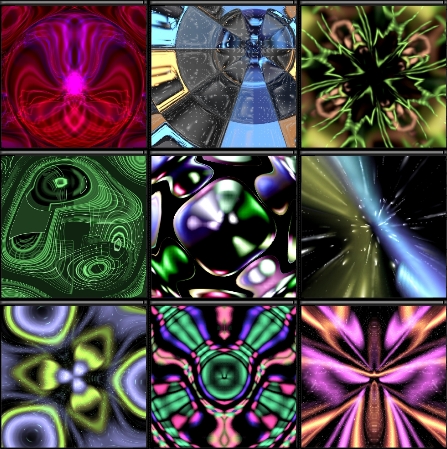 Staff review
Your eyes desire you to download this
Good stuff here.... 18 rock solid presets that hit your eyes just right. Keen attention is payed to movement, color, and pattern design. It is apparent that some good amoung of thought went into designing these...very nice work. 'Radioactivation' is one of my favorites.... and 'just like Elvis taught me'... very tight.
Comments
Where? - Where's the new ones. I still watch these presets at least once a week (you know there are lot of them) . It's one of my favorite packs for some time now. But where's the Focus 2 and 3? We can't wait any longer! Avs-King Of The World! - March 29, 2002 by reynaldo paes
Focus2? Focus3? - Why does it take so long to winamp publish the new Master's works? Dave Hansen has just released his fantastic Focus3 and Winamp didn't even show Focus2! - March 4, 2002 by joaquim jardim
Smooooth - Just beautiful... - February 9, 2002 by Frank Nagel
Duddy69's Review - Hey people this is a really cool AVS pack . It's definetly one of the better!! - January 4, 2002 by Dustin Williams
Yep - This must be one of my most favourite packs ever.Great quality,imagination and so many pleasant colours... - December 29, 2001 by JaY FaTBoY
Awsome 18 - A great AVS pack with 18 different presets. Lots of kool colors and designs. AVS packs are my favorite plugins because they are simple to download and use. Keep it up with "AVS"!!! - December 29, 2001 by A B
Cool - Some real cool presets, keep them going. - December 22, 2001 by Antanas Ursulis