>
Visualizations

>
Visualizations
DreamRender 2
Featured Plugin, September 12, 2002.
Featured Plugin, September 12, 2002.
Ultra configurable 3D Desktop Visualization. DreamRender the next step. This is a brand new full release of this great full desktop viz. Now containing hundreds of new effects.
Download visualization
| | | |
| --- | --- | --- |
| February 1, 2003 by Jim Hyde | 88940 downloads | |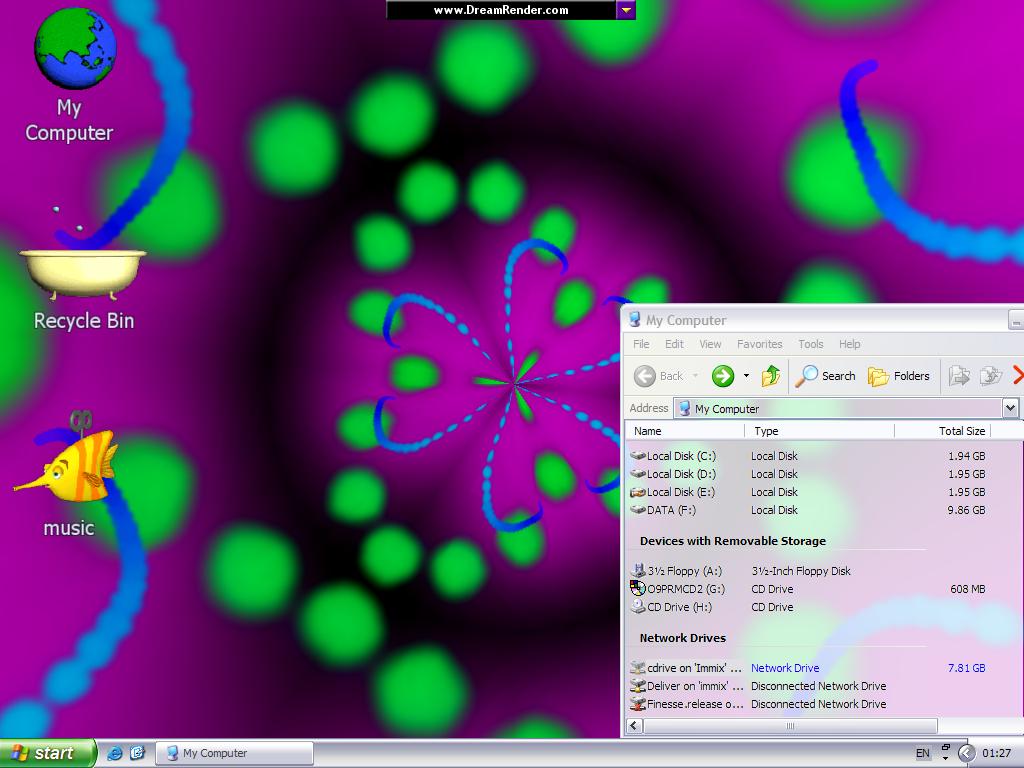 Staff review
Excellent desktop/fullscreen visualization
This one runs as a seperate application, but, fully is responsive to the music from Winamp. Highly configurable, it's very easy to get visually lost in DreamRender. You can tweak the zoom, speed, pattern, etc. to your heart's content. Runs fairly smooth as a desktop background or in fullscreen mode. This new version contains many many new effects; it's a 7 meg download, but, you will be visually satisfied for a very long time.
Comments
Not Bad... - If only DREMPELS v1.4 by Ryan Geiss had winamp rendering... - October 20, 2002 by Theo Dixon
Silly kids - For those of you having problems with 3D hardware, the application probably uses OpenGL to render things. This means you need to make sure you have the latest video card drivers from your manufacturers, as alot of the WinXP drivers and original drivers DONT have OpenGL support. Hire me, Nullsoft, you owe it to yourselves. - October 8, 2002 by Chris Putnam
Question?????????? - To add to the one obove me......... Different User I may add......... I have the same problem, I get the error msg. Please help. I have had this before on a different computer, and now I have bought a new one and do not seem to be able to successfully install and run it on my new one. - October 3, 2002 by Perry Rochester
Question... - I dled this plug-in and when I clicked either .exe, it said, "Failed to initialize 3D hardware." What is this and how do I fix it? - September 28, 2002 by Lydia Cruse