>
Visualizations

>
Visualizations
Cubes Visualization for WA2
Featured Plugin, April 24, 2003.
Featured Plugin, April 24, 2003.
Baddest ass visualization ever! Cubes is a 3D visualization plugin for Winamp 2 and 3.A Screensaver version comes in the same installer.Definitely the best looking Vis so far!DirectX8 is required, and for best looks you'll need a decent 3D graphics card, this baby uses your 3D hardware like it wants to be used: the pedal to the metal!
Download visualization
| | | |
| --- | --- | --- |
| April 30, 2003 by Nico Vrouwe | 153897 downloads | |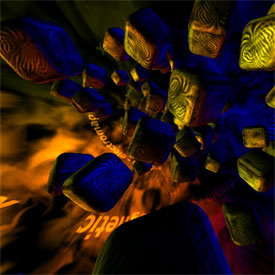 Staff review
Cube themed 3d visualization
This one looks good; excellent beat response. The concept is somewhat basic, dancing and rotating cubes with some nice smoke and lighting. You can switch the cube textures with your own images if you like to change things up a bit too. Easy to setup and a nice configuration interface... F1 onscreen menu is also nice. Looks great as it is, but, it would be nice to have more preset options in the future.
Comments
This download has a virus in it. - March 25, 2011 by KEITH LESLIE
AVG didn't like it. - Infected with a trojan of some sort, I don't advise downloading this file. - August 27, 2008 by dead kangaroo
Nice Work :) - I really like this VIZ. Thanks for making it! - January 8, 2007 by Ephedra Lazuli
AWESOME!!! - AWESOME!!!AWESOME!!!AWESOME!!! THIS IS MY SCREENSAVER!! THIS IS MY WINAMP VISUALIZATION!! THIS ROCKS!!!! THE BEST IN 3D FOR WINDOWS THAT I'VE EVER SEEN!!! - October 16, 2005 by Jitu V
Responsiveness - Charlie T, you can change the responsiveness in the configuration. Go to the display tab, then in the bottom you'll find a slidebar :) - July 4, 2003 by Nico Vrouwe
rawkin - it's running smoother than a baby's butt on my comp, and it looks great! - May 12, 2003 by Josh Orvis
Rather good - This is worth getting cos it's a tiny download for the image quality you get. It's VERY responsive to the music (perhaps too responsive, a bit of mellowing out would do it no harm mate:). I reckon on a big screen/projection, it would totally blow people away at clubs though. Good stuff squire. - May 10, 2003 by Charlie T
wicked - IF THIS DOESN'T RUN WELL U HAVE A CRAP MACHINE, IT'S FLYING ON MINE AND LOOKS TOTALLY WICKED! LOOK FORWARD TO TEST MESSAGE OPTIONS PERHAPS? - May 7, 2003 by Phil Judd
One of the most promising vis's in a very long time - Very good job man! I hope that you plan on making it possible to create custom presets for it, with custom objects.. That would make this vis OWN! The recent updates to it looks really good and the beat detection is very good and responsive.. Hope to see more updates.. To Tarkan2467: A BUG is a BUG, instead of just complaining about it, just kindly report it so it can be fixed... GEEZ! To the rest who just say it sucks, could you give some specifics on WHY it sucks, what's CAUSING it to suck and what hardware specs you have, instead of just saying you have a "very good computer". I can see why so many developers (both skinners and programmers) stop making stuff for Winamp and leave, because it's not easy to please some people and if there's even something REMOTELY wrong with the product, the first thing people here will say is: "IT SUCKS, GET A LIFE FOO!". Grow up! -Plague - May 7, 2003 by Linus Brolin
For the love of God! - Open the plugin, it causes an illegal operation, and sucks up 63% of my system resources in 2 minutes. Get a life! - May 4, 2003 by Tarkan2467
to simple - I got gforce4 and a really good comp and it sucks - May 2, 2003 by Nathan Spratt
not so great - seems ok, could be better still. directx is seems skippy with low settings - the scene is fairly simple and should not be demanding on my hardware. also directx after effects should not be as prevelant. - April 30, 2003 by Rob C
Great Graphics - This plugin is great! The Graphics, the screensaver, everything, although the installer needs some help, I had to manualy browse for winamp 2x and my windows directory, but overall this was a great plugin - April 26, 2003 by Rurouni Kenshin
nice plugin - This plugin looks really nice,nice colors, and multitexturing effects.And a very good user of vertex arrays :), The only drawback is that it's only one scene and maybe the beat detection could be better.Or maybe i'm listening to the wrong type of music:) Anyway, If u want to know what effects can u achieve with the gpu of your 3d card just go ahead. nice job man - April 26, 2003 by carl_m motera
so nice - it runs smoooothly at 1280*1024 on my geforce2mx400 video card,,,,this is the most colourfull, responsive to beat(and to music in general) plug-in i ever saw. waiting 4 the second release,,, - April 25, 2003 by Radu B