>
Visualizations

>
Visualizations
Bouncing Cube 1dot1
The cube is back!
The cube is back!
If you liked the Bouncing Cube, you should definately download this updated version. If you didn't, you should at least consider it, as this version is updated with a config screen, the ability to select colors, song name, full screen, winamp playlist controls, always-on-top mode and much more! Any suggestions or bug reports I hope you will still send to me. Best regards, Terje
Download visualization
| | | |
| --- | --- | --- |
| September 5, 2003 by Terje Wiesener | 127802 downloads | |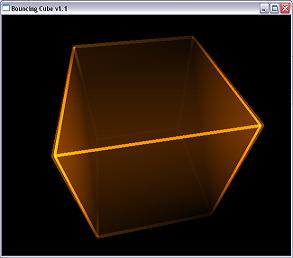 Staff review
Bouncing cube visual
The theme to this one is very basic...but, it looks good regardless. Very straightforward configuration that allows you to control the cube color and the edge color. You can use hotkeys while in fullscreen mode to adjust frequency response as well as Winamp play/pause/skip/etc. controls. Runs in windowed mode as well as full screen.
Comments
Simple and responsive - It ain't fancy, but it quickly became my favorite vis for a couple reasons. The first reason is easy: it's not convoluted, complicated, or chaotic. It's very simple and easy on the eyes. The second reason would be the pure responsiveness to my music. I don't know what Mr. Wiesener listens to, but I'm into alot of metal, hard rock, and punk. When the double bass hits, you can see it. When the snare hits, you can see it. Screaming guitar or quiet acoustic, you can see it. That's all I ask for, and this visualization delivers perfectly. My thanks to the author. - February 21, 2006 by Five0two 502
One of the times when less is more... - this is a great vis for many different kinds of music. Best of all, it's minimalism is well rewarded on lower-end PCs like mine. It would be difficult to find a PC that wouldn't run this visualization fluidly. - April 24, 2005 by Feign Jurai
aMaze - i Liike it So Much .. feeling Good. ThankYo. Kuwait, Sabahiya - November 16, 2004 by Nayef alOtaiBi
Fantastic Yet Intense - I have a 128cache 1.7 Ghz Celeron with a somewhat inexpensive video card so I had a resource problem with it. Other than that, the cube bounces, expands, contracts, and spins to the beat of the bass, the snare of a cymbal, the riff of a guitar, and the tone of a voice down to the second. This plug-in has all the features I love and if you have a faster pc than I do, this is the best if you like true beat visualization. - February 4, 2004 by Anna White
W00T - w00t, this plug-in r0x0rz 455!!!!111 - September 16, 2003 by Sweet-O Dude
My knees are still shaking... - Oh my God! He posted the cube! Again! After so many nights without sleep, waiting for salvation, it finally happened. And I have to tell you, it is fucking great. Went back to Winamp2, because WA3 is really a bitch for plugins, isn't it? Who needs WA3 anyway? But on WA2 it runs so smoothly, that I have to stop writing this comment now and will go back to this incredible piece of art. Thanx to the Master for the relief we all needed! - September 8, 2003 by Top Less