>
Visualizations

>
AVS Presets
AVSociety Our Decade 2006/7
80 presets made in 2006/2007
80 presets made in 2006/2007
Ten years of AVS, time to take a look back. Thousands of presets were released, most of them remain unseen, even by the majority of fans. With Our Decade, we want to bring some of them back to your memory. This third installment focuses on the years 2006 and 2007.
Download visualization
| | | |
| --- | --- | --- |
| November 15, 2011 by The AVSociety | 3869 downloads | |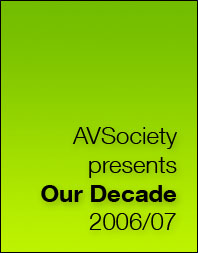 Staff review
The third part of AVS history
Compilations are hard to rate because they're so different and with a pack as large as this one, it's even harder. The first thing I noticed was that there are so many 'smooth' presets here in this pack. This pack isn't too old so you will most likely remember some of these. 2006 and 2007 were very 'productive' years, so you'll get the very best. Personal tip: get all of these packs, all the essential presets from the history of AVS are included.
Comments