>
Visualizations

>
AVS Presets
AVSociety Our Decade 2002/3
80 presets made in 2002/2003
80 presets made in 2002/2003
Ten years of AVS, time to take a look back. Thousands of presets were released, most of them remain unseen, even by the majority of fans. With Our Decade, we want to bring some of them back to your memory. This first installment focuses on the years 2002 and 2003.
Download visualization
| | | |
| --- | --- | --- |
| February 3, 2011 by The AVSociety | 5131 downloads | |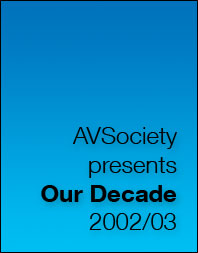 Staff review
nostalgic
if somebody viewing/creating avs presets for a long time they will appreciate this pack. if somebody sees avs for the first time they will see this a bit outdated, oldschool-ish but still masterpieces of their age and some presets have higher edge then today's releases.
Comments
@sabine the problem is widely known, as it applies to all installers made with NSIS. i can guarantee you this is a false positive! - March 20, 2011 by A Guy called Yathosho
For this version I had no problem to download it, but for the other version I got the message, that a virus or malware could be contained in the link, so that I could not make the other download. But if two versions exist, it would be nice to download and have both versions. Maybe the problem with the other version should be checked out extra...I believe, that these 80 presets will be very nice presets, although I have not yet seen them, so I think, that I can give the 5 stars to the presets... - February 24, 2011 by Sabine Klare