>
Visualizations

>
AVS Presets
AVSociety Our Decade 2000/1
50 presets made in 2000/2001
50 presets made in 2000/2001
Ten years of AVS, time to take a look back. Thousands of presets were released, most of them remain unseen, even by the majority of fans. With Our Decade, we want to bring some of them back to your memory. This fourth installment focuses on the years 2000 and 2001.
Download visualization
| | | |
| --- | --- | --- |
| November 15, 2011 by The AVSociety | 3692 downloads | |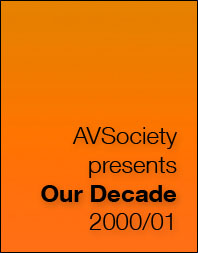 Staff review
some very good memories.
Heh they run much faster than I remember them to... Yes, old but even with presets this old I find techniques that seem to be forgotten by most of todays artists. Originality is obviously very high with this pack, as there was nothing before this. (hiper-state was made by catminddo by the way) Why this collection so good? Some of these presets are still being remixed today.
Comments