>
Visualizations

>
AVS Presets
anotherversion deux
long lost pack, finally reissued
long lost pack, finally reissued
anotherversion has been a project conducted by skupers and included various artist remixing other peoples work. originally released early 2003, all anotherversion projects got lost.. until now! today we are proud to present a reissue of anotherversion deux. all content is unchanged, the pack contains reworks from degnic, evilrice, duo and skupers, just the installer was updated. http://visbot.net for more!
Download visualization
| | | |
| --- | --- | --- |
| November 22, 2008 by VISBOT NETWORK | 14142 downloads | |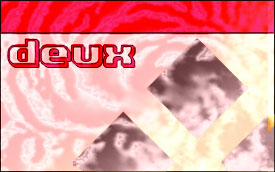 Staff review
visualization eyecandy
As always, visbot releases have high quality. With this one it is not different: Cool effects for your entertainment or at parties.
Comments
Hm...Not so bad. - There's just interesting.I don't find something new or sth this kind,I don't screaming how it beautiful...Just interesting.See it. - January 3, 2009 by The b0nus
splendid pack - i actually forgot this pack existed, how great to see it again. still contains some pretty amazing presets! - November 24, 2008 by A Guy called Yathosho