>
Visualizations

>
Visualizations
Analyzer
Lightweight and simple
Lightweight and simple
This is a simple plugin that I always wanted a while back but could never find. Hope you like it. I will update it with new visualizations whenever I have some time.



Update:

Fixed some graphics alingement glitches, the Spectrum Graph should look much sharper now.
Download visualization
| | | |
| --- | --- | --- |
| December 12, 2006 by Marko Mihovilic | 65689 downloads | |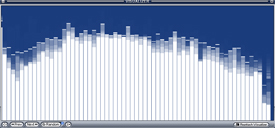 Staff review
Basic spectrum and waveform analyser
This contains a basic spectrum and waveform analyser which is mapped to the current skin's colours. It is in a skinned generic frame so on supporting modern skins it can be embedded. Main gripe was it didn't remember it's window position in at least classic skin mode. Basic but i guess it does what is intended to be done.
Comments
Napred Srbija - Samo napred najbolji smo u svemu - September 13, 2007 by Jovica Ivetic
Cool - The idea is cool and could turn out into a great plugin with a little more work.The most obvious drawback of using this plugin for me was that it was immensely resource-extensive - scaled to fit my secondary monitor (bit less than 800x600) it caused Winamp to use around 50% CPU time on a 64-bit AMD3200+ (running on 32-bit XP).Spectrum analyzer mode looks OK, but waveform mode looks pretty cheap using classic mode. Some edge smoothing would do some good (but only after the performance is improved!). - August 29, 2007 by Joe Average
Nice one! - This could really become a very good plugin. Only need the normal avs prev & next buttons control the mode and need a oscilloscope mode with a nice thin line. Other than that this is one of the better plugins for Winamp. If you want a visualization plugin that use no recources... this is for you. Nice work! - December 21, 2006 by Pieter Nieuwoudt
Pointless... - I honestly cannot see the point of this to be honest. The graphical display is far too large and kind of 'in...yer...face' If this visual device was made 'smaller' and more 'cool' looking without the amateurish 'look' about it...then i would give it a 3-4 star rating...but it looks so over the top. A nice idea for a spectrum...but a little amateurish looking and totally pointless. - December 17, 2006 by Andy Carlton