>
Skins

>
Stylish
Z-Axis
My New skin after some time out
My New skin after some time out
Z-Axis

2D Graphic uses only 2 axis...the X axis(width) and the Y axis(height)...but in the 3D a third axis is added...The Z-AXIS...



By El*ArGeNtO

All GFX By Me
Download skin
| | | |
| --- | --- | --- |
| June 16, 2005 by El-ArGeNtO (Fernando Adorneti) | 178261 downloads | |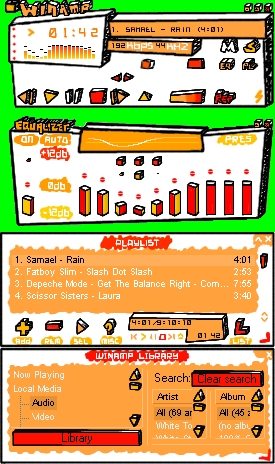 Staff review
Interesting concept, but not that good visually.
It's certainly original (not completely, but close), and the orange's great, but there's something about the skin I just don't like. The shapes of the main and the eq window might be that. And it somehow looks too crude, intentionally I know, but overly so. A good download.
Comments
supers - not review - June 16, 2006 by nikusja nikusja
neat - we need more skins like these - November 5, 2005 by jo c
Las animaciones son excelentes - Hey Fernando! Muy buenas animaciones!!! Hace bastante que deber?a haber escrito un comentario, pero el beb? tiene reci?n dos meses y medio y no me est? dejando tiempo disponible para esto. Muy bueno!!! - August 2, 2005 by Veronica Mogni
Amazing! - i just love it i wish you can make window style that match with this! - July 20, 2005 by Yuri Kim
Gumpmeister - I think is good,real good,everything is fuctional,easy to access,I give it five just for originality,hence five stars across the board.... - July 17, 2005 by Gump .
KICK@$$ - Yeah, this one is AWESOME! It goes really well with my Ed, Edd, and Eddy wallpaper:) - July 10, 2005 by Spiders Everywhere
nice - The theme is well executed, my only complaint is the lack of definition, lots of jaggies . I love the eq anim - July 10, 2005 by a h
Great Skin - I have never seen a skin like this before, it's a really good idea, the colors are so funny as the design, congratulations Fernando Adorneti. - July 5, 2005 by Lisette Maza
Not bad... - I'm not into the old style skins much anymore, but this ones looks pretty nice. And for those of you who don't know why it won't install, the .sz format is not automatically installed by Winamp when you download. You have to manually copy the .sz file to your Winamp skins directory in order to use it. Rock on! - July 4, 2005 by Mikey Findlay
LOOKS WICKED WONT WORK - the design is amazing and ive downloaded it a million and one times and it just wont work. i have winamp pro 5.03. the .sz file extension doesnt seem to be working! i really want this skin.if anyone reads this and knows what to do please help! [email protected] - June 30, 2005 by Amy Alexander
Great Skin - I really like the style of this skin - great work - June 22, 2005 by Tobias Beyrer
good animations - Sorry I never took the time to check out this skin as you were making it in the forms, El-ArGeNtO. I'm glad I checked it out now, though! You've become the sort of skinner who you can depend on to make great animations with every skin :^) This is a fun, playful skin, and you've managed to make the PL, ML, and VID windows look good and match well also, which is not so easy. Not that I ever use them, but good windowshades too :^D Overall, the graphics are a bit jagged, but I guess that kind of adds to the hand-drawn, angular style. - June 18, 2005 by StillWater skins
Nice work - Very cool concept, and.... omg! You actually skinned the buttons in Video!! Overall very good, detailed work on this skin. Your attention to detail amazes even me! My only problem is i have trouble looking at it for more than a couple min :P Keep Skinning!! - June 18, 2005 by Michael Burns