>
Skins

>
Nature
YummiYogurt v5
Winamp and Nature Merge.
Winamp and Nature Merge.
Featured in WIRED Magazine October 2000. Colorful and Totally Original. Animated Volume bar. Growing Flowers EQ. Take your WinAMP to the next level.
Download skin
| | | |
| --- | --- | --- |
| March 27, 2005 by Nullsoft Classicz | 399265 downloads | |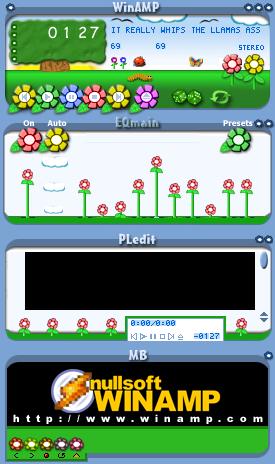 Staff review
Makes me happy! Eq is fun.
Very pleasing skin. Cartoonish but oddly calming visually. I love the EQ but am less than wildly enthusiastic about the transport controls; though the colors make it easy to know what function you're hitting. Would have liked the transport buttons to be different than the EQ/Playlist buttons. Overall a fine skin.

Original Design by Chris Carey.
WA5 update by T Mrym.
Comments
HR-Executive - good winape - September 15, 2007 by goud23 ramu
dashulia2604 - !!! - September 2, 2007 by dashulia2604 dashulia2604
niiice - A very nice skin! Makes you feel the spring in the air... ;) - May 15, 2007 by Elena ivanova
Thank you for send me an angel - all girls like flowers...;) - January 28, 2007 by katia yakimenko
cris - cris - October 25, 2006 by Cristiane aragao
a - a - October 19, 2006 by mntesting1 stonebraker
mniammmi - my favourite skin !!:).Remind me of sunny spring which I need so much now ...when it's freezy winter.. - February 26, 2006 by ania z
yummi - yummi - May 29, 2005 by aof fuyu
FLOR - qqqqqq - April 11, 2005 by nina ortiz
YummiYogurt v5 - This did indeed make me feel warm fuzzies! :p It really does cheer ya up! - April 10, 2005 by Angel Noennig
heh - fajne to!! - March 28, 2005 by Magda Magda