>
Skins

>
Stylish
Warp skin
Welcome to the Future
Welcome to the Future
Advanced coding techniques


Make Warp One of a kind.


100 Million Color Themes(match any wallpaper you have)/


Color Morpher / Integrated AVS / Texture Overlays / Transparent Orbs / ScreenSaver / Special Vis / Animation Overlay / Alarm Clock / Online Manual /





You find the rest...





Graphics QuadHelix


Coding Leechbite
Download skin
| | | |
| --- | --- | --- |
| May 18, 2004 by QuadHeliX Barber | 481508 downloads | |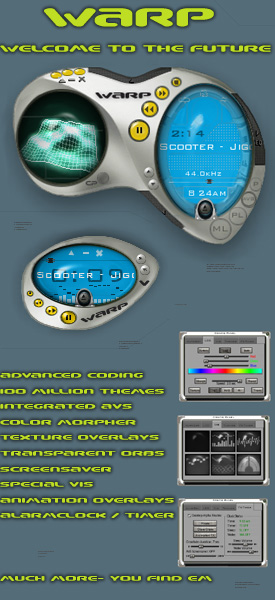 Staff review
Well, if this is the future...
Too much attention paid to special features, color themes and special effects, not enough to the skin itself.
Comments
nice - hey..that poster for your skin is misleading!! tat equalizer graphic not provided!! please improve this skin!! just a little tweak here and there would be very cool.. the avs on lcd was like the coolest!! - December 22, 2007 by sugarwall sugar
Great skin! - I used this skin a lot in the past. This skin is very customizable and modern, and have a functions. Good job! - July 9, 2006 by dIEGO P.
LOT'S to do - It's cool with alot to do. Personalise it like CUSTOM Colours ANd MuCh mOrE - April 5, 2006 by John Calitz
I love it - Now that I use Warp Skin, I'm the envy of my workmates!! Great colors, great themes, looks great... but the effects are AWSOME. I'm in love with the internal-avs mode. And the automatic color shift, and the transparency... there are so many things! Wishes: -Some more themes to play with. -A thin shade mode. -That the window wouldn't forget it previous position when you change modes. -A house in the beach. - March 19, 2006 by Marcos Hernandez
Ok, I'm all done DL/ing skins now. - Stop right here! This one rulez. The ultimate geek toy to date. Tired of playing UT, or Quake? Need a break from coding or studying? Twink around with this instead! So quit wasting your time reading my babble and download it already! Oh yea.. Don't you think with like 30-40 peeps bashing Winamp staff for the hasty and ill-considered comment, they might revisit/reconsider? Does the Winamp staff read this forum?? :( Winamp has owned my MP3's forever, and always will. But damn guys; give QuadHelix a second look, and eat the comment. 439,963 downloads. This skin is da shiznit!! Quadhelix... I just hope someone is smart enough to hire you to help code the gui for the Dick Tracy watch/Tricorder/PADD we all have been waiting for. I will buy it. So will about a quadrillion other peeps. - December 25, 2005 by CJ Hardy
Great Skin - Nothing bad I can say about it . Might be a little small , for some people . You might watch your CPU usage , if you've got an older computer . - September 15, 2005 by fred falcon
Last skin you need. - The guy before me should just have said he couldnt figure out all the cool stuff this skin does. "not enough attention to the skin" how about "just say no"! What a "noob" Your lucky Quad gives this away, hows about just saying "Thank You" and moving on. Everything is adjustable and easy to get to without digging through the preference panel. Quad is the master, clean interface, no gliches. If you explore enough you will gobble up all the candy he left for us. Done even bother changing skins you will just change it back to Warp. - September 10, 2005 by Shay Peyton
WARP Rulezzz!!! - Impressive skin. The opportunity of inclusion of AVS in orbs has especially liked. - July 9, 2005 by Darth Snow
Warp - It is an good skin. It was a lot better than I thought it would be from looking at the picture. I would rcommend it to anyone who thinks that (even a little) thinks it is attractive, you might like it. - May 13, 2005 by David Roberts
Staff Review is way off, this skin's greatness! - This is it. The skin that you've been looking for. It's because you're seeking that Utopian Skin that you keep coming back and looking for new ones. Well this is it, the Best SKin Ever. - March 22, 2005 by Mike Formisano
All in one skin - Highly configurable skin. Regain hard drive space by deleting all the other skins.This one replaces them. - February 7, 2005 by Ray Torres
This skin is everything I wanted! - everything is sized just right, the text is readable, and it does LOTS of really cool stuff. The window shade is realy cool too. The color scheme is totally customizable, and the AVS can go in either of the two main windows. It also has a built in clock/timer. Really nice EQ drawer too! I uninstalled all my other skins since I found this one! - February 1, 2005 by Lyric Rosatti
Nightmarekid - This skin is sweeet! i like how smalll it is and how versital it is. the color schemes are awsoome. great job!! - December 24, 2004 by Tyler Roth
awesome! - I would have to say this skin is one of the best i've downloaded so far. I enjoy the different color schemes and overall format. This is also a very easy skin to work with and the convenient mini mode is just, well....convenient! i could do without the pop up windows at the bottom though. i dont believe they are necessary and serve as a distraction sometimes. other than that one small bit, this skin is awesome! - November 4, 2004 by Lacey Bridges
Beautiful skin - This is great skin with ONE glaring problem it crashes Winamp 5.05 after 5 minutes of use or at startup Fix it ! - October 28, 2004 by Larry Mintz
Niiiiiiice - They may have said there was more emphasis on coding than on the design itself but some people (like me) actually like that sort of thing, imagine that! Great job on this one! All of your skins are well coded and nicely designed. - September 22, 2004 by Angel Lawing
killer avs - I must agree with the Staff in that a little too much emphasis was placed on the special FX, and not enough on the skins graphics. But I must give props where they are due... the AVS mounted on the skin is quite an nice touch! - June 23, 2004 by Ground Hawg
jger - scooter Reamenn ozone - June 17, 2004 by aal fred
Fan-freaking-tabulous. - Terrific skin. I absolutely love the different color schemes, and just the overall design in general. One thing that I could do without, though, is the popup that tells you which song is currently playing... although I admit that it's quite innovative, I still find it pretty annoying. But, other than that, I would say that this skin is nearly perfect. Excellent job. :-) - June 14, 2004 by Liv Kavaliauskienďż˝
It's so fascinating! - It really is a fascinating and interesting winamp skin. It took me awhile to get used to everything, but it's really impressed me with all the color choices. I love the Orange! Great Winamp skin! Shiva - June 8, 2004 by Shiva Smith
Great Skin - Love the skin. I love it so much I created a winamp account just to give it a 5 star rating. - June 8, 2004 by calvin vu
....in addition - This skin, when you set it's color morph mode on, displays amazing features with Nikias Klohr's eXcess visualization. check it out :) - June 6, 2004 by martin m
a color theme will match - try changing the sliders and color thems till you get the right combo, thats the fun of this. Also Download AVS from the Pluggins section for more features to add to this. - June 5, 2004 by QuadHeliX Barber
Whoa!! - This here is one fancy skin. Amazing stuff. Feels more like it takes over the player. - June 5, 2004 by martin m
Amazing.. - I just downloaded this skin, and wow... love the use of all graphics, and even on full, cpu usage isnt bad at all.. Love every aspect of it, looks damn fine on my desktop too... oh, and glass texture on orbs is sweet... Keep it up pal. Cypher - June 5, 2004 by Cypher P
ahh - Thanks for input will check into it. - June 4, 2004 by QuadHeliX Barber
Lame - This skin does have lots of interesting features, but the skin itself is kinda lame: ugly color themes (though the color sliders can help), song info window is hard to read, akward winshade mode, and high system requirements. - June 4, 2004 by Pascal Getreuer
User - Geez! I was just about to go to bed, now I'll be up all night playing with this! This is really too cool! Thanks! - June 4, 2004 by Debi Feistkorn
find another skin that does all this - alternates colors, avs built in, adjustable effects on the skin, timer and clock, able to make transparent, any color scheme you want, notifier, etc etc, nothing beats this skin for features. It sets a new standard that should be followed by others. as for staff comments, what are they one cause I want some. suggest another look! QuadHeliX ......we want MORE!!!!!!!!!!!!!!! pete - June 2, 2004 by Peter Zawacki
Observeration - If you have a skin set to dock and/or auto hide when you switch to this skin, it does not display at all. WinAmp reverts back to the 'classic' skin. If you're having problems getting it to display, make sure you turn off dock and auto hide for your current skin. - June 2, 2004 by Michael Lynch
Please Check - 1001winampskins.com gives it a 92% Everything works for Other Users Dont know what your problem was. Whats Your OS? - May 30, 2004 by QuadHeliX Barber
Abyssmal - Maybe I'm just not intelligent enough to use this skin, but I just plain couldn't get it to work. Only the smaller interface would appear, and I felt there were just too many options. Try Zygote -- it's easy to use and MUCH cooler. - May 30, 2004 by Mike Hemmerling
hmmm - PDA? Please tell me what you mean. Warp was tested Extensively, What Windows OS do you have? - May 27, 2004 by QuadHeliX Barber
..can't find digital camera - and the PDA doesn't seem to be working either! - May 27, 2004 by Jimdrix Hendri
This Skin rullz - Don't mind the staffs comment. This is one of the best skins around. It's a must -have :) - May 25, 2004 by pascal simons
Enjoy the skin - um... the staff thinks it has too much feature, another says it doesnt have enough.. me confused. :) hehe, enjoy the skin like we enjoyed putting it together. - May 21, 2004 by Jory Compendio
CONGRATS!!! - great! featured! :) congratulations from my side!!! :) should get some more reviews plus downloads now ;) finally a skin that deserved the featuring :) - May 21, 2004 by i rontz
Thanks - For the nice comments - May 20, 2004 by QuadHeliX Barber
Here's what god thinks - Pretty cool design. A slightly futuristic shape not not enough of those cool featurers Winamp5 got. Solid work. - May 20, 2004 by Peter Manning