>
Skins

>
Entertainment
Walk Hard Winamp5 Skin
Walk Hard (In Theaters Dec 21)
Walk Hard (In Theaters Dec 21)
The Walk Hard : The Dewey Cox Story Bobble Head Winamp Skin is from the new film about a larger-than-life musician and songwriter Dewey Cox. But behind the music is the up-and-down-and-up-again story of a musician whose songs would change a nation. On his rock 'n roll spiral, Cox sleeps with 411 women, marries three times, has 22 kids and 14 stepkids.Download the Dewy Bobble head Winamp skin. His head will Bobble to the beat of the song.
Download skin
| | | |
| --- | --- | --- |
| November 14, 2007 by Dewey Cox | 297846 downloads | |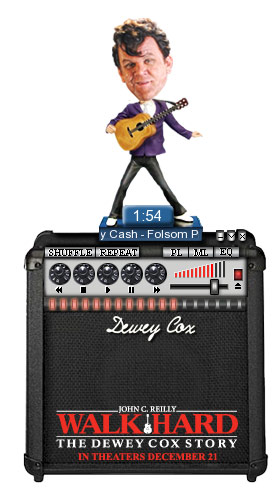 Staff review
bobble head!
Makes me want to get up and dance.
Comments
first rating - pretty cool - April 20, 2008 by j l
I love the bobble head - I love this skin. The Dewey bobble head rocks out to the music! It is awesome! Whomever thought of this idea is genious :) - December 5, 2007 by Lisa Kalick
The amp is cool but... - I'd love to see an amp skin that was a bit less clunky and minus the dork standing on top. Also, I find advertising skins annoying as hell. Guess I'll have to make one myself. I wish I knew how... - December 2, 2007 by m h
4 - it is good. - November 29, 2007 by sunetra latimer
hey - n.... - November 25, 2007 by mel christian legaspi