>
Skins

>
Entertainment
Van Helsing
Now out on DVD!
Now out on DVD!
Van Helsing Winamp 5.05 skin. This action packed feature film out on VHS and DVD on October 19th pits a vampire hunter Van Helsing (Hugh Jackman) against Dracula (Richard Roxburgh), his deadly blood-sucking brides, and the Wolfman (Will Kemp) in a special effects CGI film that is sure to entertain you. Be sure to check out the cool animations and extensive film photo gallery. User interface and coding by Petrol Designs.
Download skin
| | | |
| --- | --- | --- |
| October 14, 2004 by Van Helsing | 1032481 downloads | |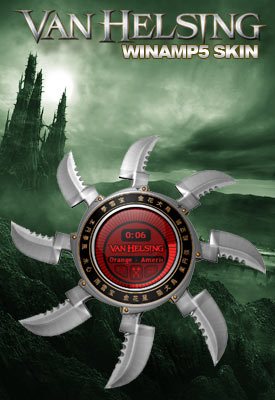 Staff review
Just in time for Halloween.
This skin is perfect for those who like to blast music to the creatures of the night.
Comments
watch this - its the most stylish skin i've ever seen. One thing was i missing! why it doesnt fly in when you start it?? ;-) Get your hands of the screen or get cut!!!! - August 5, 2007 by Ramon Sturzenegger
Very clean - Its a bit hard to tell where things are, but tooltips solve that. Lots of nifty features, looks nice, great skin imo - December 17, 2005 by Zach Shrock
Sharp Skin - Van Helsing skin is the sharpest ever. Love it! - October 22, 2005 by Tim Turner
sakura - yaee this so cool - September 18, 2005 by sakura avalon
yeah! - love the movie like the skin - April 12, 2005 by christian pesantes
It's looking really good - First I see it by an friend. And i like the movie too. It's really a great skin. - April 7, 2005 by Markus Pankalla
cool - this is a good.................... skin - February 9, 2005 by hurmuz calin
Great Animeee - I would like to congratulate u Fatih this is a real charming animation skin. Very good idea of you for using such a different type of skin. - February 3, 2005 by Tarik Aslan
wan helsing - good - January 29, 2005 by fatih ciftci
Van Helsing Rocks!! - We Loved the Movie and bought the 3-DVD Special Van Helsing Collection! We even got a DVD Set for my 13 year old son, Taylor. Awesome Effects; Awesome Graphics!!! - December 31, 2004 by Stephen Holoiday
Very nice! - Good skin...the only downside is that the edges of the blades seem a little pixelated. Other than that, great job! - November 23, 2004 by John Bergquist
. - This is by far the coolest-looking yet easy-to-use Winamp5 skin.Not only does it look awesome but all the buttons are easy to find.The intricate design and blood-red colour means you won\'t miss the lack of colour themes.6 stars for me :P - November 17, 2004 by Rahul K
Van Helsing - Great - November 3, 2004 by Katerina Dimova
Awesome! - Just like a Shuriken! Definitely a favourite. - November 1, 2004 by Vivian Tong
Great for Halloween - I have this as WinAmp's skin in my Halloween layout. I like it so much, I think I might just keep using it 'till Turkey Day. I whole-heartedly agree with Rien on the fact that the WinAmp site should avoid reviewing their sponsor's skins. It's sort of unfair to us little guys who are working alone with limited resources. Anyway, one thing that would've made this skin better -- if the red orb in the center, the one before the display is opened, was beat-reactive. I'd love it if it glowed ato the beat! - October 31, 2004 by Indigo Wessex
Wow - Sehr netter Skin. Ein muss f?r alle user!!!!!!!!!! - October 28, 2004 by Dali Sipka
blades - if blades rotate around the hub is the best. and if the blades close. this is the best skin for winamp. - October 24, 2004 by libra mon
the best - this is the best skin I ever used!!!nothing more to say...its realy the best! - October 23, 2004 by Guido Lopes
Ummm... just a thought... - Well made and all that, obviously. There are professionals and money behind this design. But wouldn't it be a bit fairer to us sweating amateur-skinners if sponsored skins "that pay their way in" wouldn't be reviewed at all? It would give the Staff Review a little more credibility IMHO. (After all, you can hardly expect the Staff to shoot down a skin that helps paying the bills.) - October 21, 2004 by Rien Post
the knifes are very nice - knifes knifes knifes - October 19, 2004 by cemal yuksel
Amazing Skin - Its simply a fantastic skin, even tho i wasnt a great fan of the film, i dont care the skin is just awesome, u dont have to watch the film to relate to this skin and its a must have, when you first load it up the animations are really kool, then when u dont hover over thew main window for about 3 seconds another animation covers up all the buttons u wont need, JUS DOWNLOAD IT, best skin ive seen so far - October 18, 2004 by Ryan Moran
typical petrol designs skin - nice gfx, but that'S already it. though this one has a nice mouesout effect and a startup animation. at least something. i didn't find the mentionned nice vises... perhaps they are there, perhaps they aren'T. again no color themes... no mouseovers .... the shademode is EXTREME ugly... anyway... not worth more than three stars. - October 18, 2004 by i rontz
cool blade!!! - I really like this skin very nice on the colors and textures.I also like the blade very cool. - October 18, 2004 by Denise Jenner
Awesome - The visuals are cool. It don't matter if the movie gets old. It's still a cool looking thing to have running to play your music. Especially if you are playing Godsmack - Vampires. Or playing some freaky stuff. >> - October 18, 2004 by Bryan Holmberg
Very Cool Skin! - Too bad the movie was so AWFUL! - October 17, 2004 by Fred Betz
Nice but not great - a nice skin but like all movies based skins you only use it for 2 days after watching the movie then you don't care about it anymore. - October 15, 2004 by Maher Korek