>
Skins

>
Animated
Unlikely Heroes
From the popular webcomic...
From the popular webcomic...
The first decent skin of the characters from RPG World! Witness the Hero, Cherry, and Diane take up the mainscreen with newcomers Olaf and Aka forced to reside in the corner of the equalizer. Each button of the playlist features a character from the comic, and stretching the playlist reveals even more. Definitely for fans of this comic.

I skinned every single window, which certainly makes me feel proud. I think it looks rather good, especially the dot lines at the top of the media library.
Download skin
| | | |
| --- | --- | --- |
| October 27, 2004 by Kha Chu | 279564 downloads | |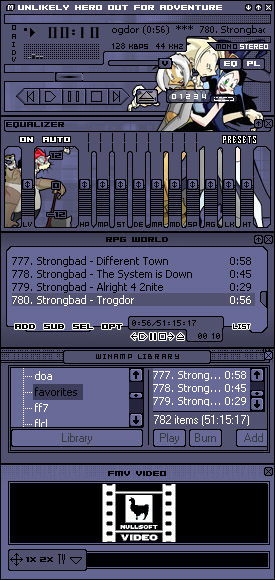 Staff review
Not bad...
A fine looking skin. The pictures are nicely implemented. Everything is skinned except for cursors.
Comments
really well done - 4.5 Score...I like it a lot...just don't like the color when something is highlighted in Media Library...other than that perfect job. - February 18, 2006 by Mark Ninnis
Dude! - Someone actually made an PRG world skin! *Sniff* I'm soo happy... Nice work, it really does look great! - August 9, 2005 by Katie Nyborg
WEBCOMICS!!! - Finally, some good webcomic based skins. Well put together. - March 21, 2005 by Tedd Verres
A+ - Great work! It's not a half assed job like a lot of Classic Skins I see from people, you took your time on this one! Now go make me a Strongbad Skin damnit! :-P - November 30, 2004 by Jeff Heath
RPGWORLD! - Yay! It's great. Love the picture of the love triangle. ^_^ One of my favorite webcomics ever. :) - November 20, 2004 by gameboyguy13 (JD)
AWwwwwwwwwsome skin! - Wwwsome skin! Absolutely amazing! One of my default skins . :P - November 19, 2004 by Ron Lee
Hrmmm good - The Way this is set up is awsome, the transperency is worked well and it is pretty original! Strongbad eh? - November 15, 2004 by Eoin Oneill
good - fine & have good look's - October 29, 2004 by nrupad patel