>
Skins

>
Entertainment
Turner Classic Movies Winamp5 Skin
Lights... Action.... Music!
Lights... Action.... Music!
The Turner Classic Movies Winamp 5.03 skin is a throwback to the golden age of film making. The animated user interface has the look and feel of a classic motion picture camera. With great visualizations and custom logo modes this skin gives you the features you expect and the look and feel that you are seeking. Be sure to check out the film canister winshade mode and cool links to Turner Classic Movies website areas. Built for Winamp by Petrol Designs.
Download skin
| | | |
| --- | --- | --- |
| June 1, 2004 by Turner Classic_Movies | 1538131 downloads | |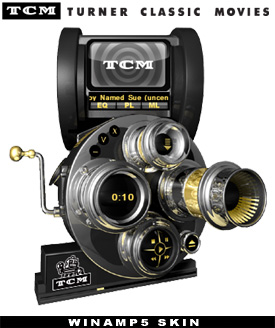 Staff review
Nifty skins for old school movie buffs.
Lots of features make this a great skin for collectors.
Comments
:( - Yaa benmksnde surel hata raporu veryor allah rzas cn br yardm etsnnnn:((( - October 3, 2008 by lorenzo sen
wow - very nice - August 19, 2008 by seckin demirsoy
wow!!!! - This is soooooo coool!!!!!!!!!!!!! Nice one - July 10, 2008 by Allen soriano
just a simple skin - what a amazing skin.i love it.. - April 16, 2008 by sbuchukz sbuchukz
great - great 1 - April 11, 2008 by Madhuri G
nice - well done. i wish there were more steam punk/retro tech friendly skins, people assume glossy futuristic crap that looks like an amoeba is innovative - April 8, 2008 by Hugh McGown
Very Cool - Nice job! - April 8, 2008 by Billy White
i need - is it able to toggle stereo on/off anywhere? cause it seems to be off in default.is there any chance that the recently played track is marked in the playlist editor?of course I can see it under the eq screen, but it would be nice to see it directly in the editor as well.I hope sb can help meotherwise its an incredible skin, very nice work! - March 27, 2008 by Frank Drebin
awesome - cant get words to describe it. - February 28, 2008 by jyotish tp
Creative - It's a really wonderful and attractive design!; - February 28, 2008 by In tae Choin
WAAAW - Daamn, I Like That! - December 24, 2007 by Aaron Vanhauwaert
Kick ass Skin - TCM is the best!UNCUT and COMMERCIAL FREE! - December 8, 2007 by weAponX X
Cool - Creative - October 15, 2007 by alice iordache
wonderful - This is the most beautiful skin I ever saw.. - October 12, 2007 by Mia Raven
fun! - alrighty, maybe I'm being childish but I love the way this floats out on my screen in the exact shape of the camera. also, gold on black controls are easier to find than some on other skins. - December 5, 2006 by J D
looks pretty nifty - good stuff animates at start - December 29, 2005 by Andrew Hayes
Well done - A very good skin, great look and great functionality. - December 2, 2005 by Fredrik Pelli
Superb Quality - Every time I think I've seen the best skin, another one appears and raises BRILLIANT to a new standard. - September 7, 2005 by Veet Voojagig
Now THAT's Retro!!! - Finally a retro skin that actually lives up to the category. Great job! - June 20, 2005 by Barrett Reynolds
The best skin... - i've ever saw - May 22, 2005 by Krzysztof Filipczak
The Cat's Pajamas - Being a huge fan of films of yester-year when i came across this little number today i was more than happy to donate some hard drive to the cause. Great detail, colour and shading and idea. Whoever gave birth to this monstrosity should breed more often. Calling it "The Bee's Knees " doesn't do it justice. Nice - February 12, 2005 by Shawn Ure
Great - Its awesome - January 9, 2005 by Magus m
Great skin - I like the animation - January 7, 2005 by Lietotaajs Visu
Mind-Blowing - Arguably the best Winamp5 skin.Needless to say an awesome-looking skin which both looks great and is also easy to use.The buttons and controls are creatively placed yet easy to find.A must-download.Thumbs up! - November 17, 2004 by Rahul K
Cool - Have a good looking and easy to use. I like it - July 10, 2004 by Boonchai Pobsuk
Nice TCM Skin - I love this skin its like a movie. I give it five stars. Trimplay - June 25, 2004 by Rickey Francis
TCM - winamp - June 24, 2004 by John Farfan
Insane 3D - The 3D modelling on this skin is absolutely unreal. Also I reallydig the personal touches like the custom vis and the toggling logo. I swear... I could just sit and play with the top drawer all day long! ...open...close...open...close I am not too into sponsored skins, but great job on a VERY original skin! - June 23, 2004 by Ground Hawg
Thats Cool - Cool Skin but the Buttons are to small :) Greetings From Germany Freak23wi - June 2, 2004 by Matthias Mehrbrodt
nice :) - very creative one :) nice :) - June 2, 2004 by i rontz
weeeee? - *droooooool* i dont even know what to say for this one...wow...nnice colours...amazing angle...must of been a big piece of gods toe u stole and forged into this skin....hah....it shines in the brightest of light... congrats - June 1, 2004 by Donovan Mowatt