>
Skins

>
Entertainment
Tokyo_Drift
I could play with the EQ Button all day long!
I could play with the EQ Button all day long!
The Fast and the Furious: Tokyo Drift Winamp skin takes you right into the red hot world of Tokyo drift racing.

In Theaters June 16th

Sean Boswell is an outsider who attempts to define himself as a hot-headed, underdog street racer. To avoid jail time, Sean is sent to live with his estranged father, a career military-man stationed in Tokyo. Now officially a gaijin (outsider), Sean feels even more shut out in a land of foreign customs and codes of honor. But it doesn\'t take long for him to find some action when a fellow American buddy, Twinkie, introduces him to the underground world of drift racing?.BE sure to check out the cool ?Drifting? animation a first ever on winamp!
Download skin
| | | |
| --- | --- | --- |
| May 25, 2006 by Fast Furious | 1517170 downloads | |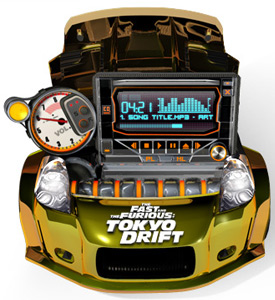 Staff review
I do like the EQ.
Pretty cool skin. The load up animation is a nice touch. Mostly basic in respect to complete skinning. The eq does cool flips when opened.
Comments
Buen skin !! - October 31, 2010 by [email protected]
Great x1000! - Great x1000! - February 23, 2009 by alice iordache
10 - muy buen skin - January 4, 2009 by RODY199 RODY199
keren - keren nih skin nya - December 1, 2008 by Rizky Setyadi
Cool - I Like It So Much - October 6, 2008 by Luqman Azmi
1 - - April 24, 2008 by oguzhan karayl
ngfh - gdrgdr - February 4, 2008 by burak nazlolu
sper - sper mi ama ykleyemedim - December 15, 2007 by seyit erol
waw - The best skin i ever seen - October 31, 2007 by humex humex
It's cool.. - I like this - September 13, 2007 by Ra ognista
Awsome!! - I wish i had that skin but i can't download it!! - September 8, 2007 by Dawit Gola
cool - very very cool!! - August 17, 2007 by kiwi boy
mmm - yeah babe - August 15, 2007 by numan celik
cool - was very cool how to drift - July 7, 2007 by richard vang
agree about the EQ - but it lag a little... but its maby my comp thats slow - May 27, 2007 by Martin Pedersen
tokyo drift - tro cool - April 19, 2007 by maxence berger
To Fast - I think that this is a very cool skin - February 7, 2007 by Allen Nowicki
respect! - it is very good!!! i know no other good modern skin! - January 12, 2007 by Christian Hund
Jade - OMFG i luv it n i luv dat movie itz heapz dadi cya nxt time XD... Jade - December 14, 2006 by Jayde Veronica
cvhcv - bgfhfghfg - December 13, 2006 by wouter vangenechten
good skin - :-) - December 5, 2006 by Usama Ben_laden
fast of furious - es mu wapooooooooooooooooooo, its good - October 12, 2006 by pedro chaparro
Review ^^ - Very cool skin... ;] - August 18, 2006 by Nafen Jol
Nice - Nice skin seen the movie 4 times at the theater :P - July 12, 2006 by Nicholas Comtois
drfds - iajahahha - June 29, 2006 by playboy jakup
very good looking but... - i have problems to play my playlist random until i installed this skin, this does'nt with another one - June 29, 2006 by jose luis
a - really good! - June 15, 2006 by john reed
Ry - even though it looks fully sick, i cant seem to download it properly - June 12, 2006 by Ryosuke Takeshi
really impressive - I just didn't like the colours for the lettering, etc. I like the way it loads tho, that's hot. Winshade was kinda blah. Other than that... - June 12, 2006 by Lilliam Infante
fuhhh - cool stuff - June 9, 2006 by Kim Spade
by Carlos PB - let get fast? or let get furious? - June 9, 2006 by carlos ferreira
faksdmflsdsdanflksadf - jfkafklsdajklasfjsakldfnsafsajkdfhsaj jfashfjksadfhasf? - June 4, 2006 by marcelo makibara
COOLEST EVER! - Holy crap this is the coolest ever! - May 29, 2006 by Bobby Field
gfh - fgh - May 26, 2006 by DJ_LeFo LeFo
VROOM - BIG SPOIRER MAKE YOU GO FASTA - May 25, 2006 by tr 67
nice - cool skin, could use some alpha blending on the edges, though. - May 25, 2006 by Taber B