>
Skins

>
Entertainment
TheWall
Pink Floyd's Masterpiece
Pink Floyd's Masterpiece
Wow, what was Roger Waters on when he wrote some of this stuff? Anyway, the font for the playlist is a freeware font called Floydian, and it's included in the skin file. Instructions for installing font is in the readme (Hit alt-s). Skin includes:-Mikroamp-Animated Cursors-Support for Winamp 2.9Made from the crazy animation from The Wall. Hope you like it.
Download skin
| | | |
| --- | --- | --- |
| June 2, 2003 by James Potter | 64866 downloads | |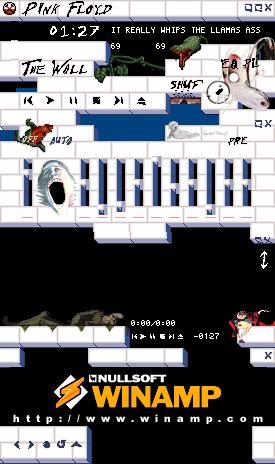 Staff review
Approved.
Thank you for your submission.
Comments
Big Floyd Fan, BUT..... - .....I found it very hard to read most of the menus and found it confusing. But it's very well put together graphicly. Anything connected to The Greatest Band on the Earth gets my vote. Well done Mr. Potter!! .....By the way, How's Young Harry doing these days????............ - March 15, 2007 by Mick Rogers
Excellent - Wow, great job. Love the look. Good idea with the hammers in the top-left. I'd love to see an Animals skin from you. - October 6, 2004 by Eric Strawser
Brilliantly Original - The best Floyd skin I've seen yet. The graphics are amazing; complete package. Wonderful use of transparency, as well. Very, very nice, Mr. Potter. =) - February 17, 2003 by Crimson Strange