>
Skins

>
Games
The Other Mario Brother
Luigi
Luigi
Updated for v2.9. MikroAmp Skin is included. I wanted to make a Luigi skin that would make Mario jealous. I sat down stared at many, many different skins and came up with a steel design. I hope you like the result. Everything is skinned and I've included lots of animated cursors from different Mario games. See if you recognize any of them. Enjoy and please comment!
Download skin
| | | |
| --- | --- | --- |
| September 5, 2003 by kayak - | 85497 downloads | |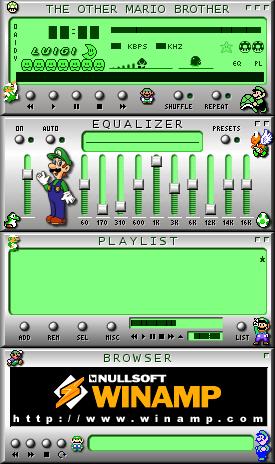 Staff review
mario and luigi are fighting for the skins
nice metal luigi skin. a bit basic and out of the theme in my opinion.
Comments
Almost perfect... - This skin is one of the best I've ever seen...however there is one thing you forgot to take into account when making it...those using Media Library have a problem. I found it out almost immediately. You see you used black text for the play list or something like that...and that also is the color of the text in the Media Library...so the entire Media Library is black... Otherwise absolutely incredible. The Media Library is what brought it down from 5 to 4... One thing though anyone who is seeing this....if you use Media Library a lot, use another skin until you have chosen what you're going to listen to for a whiel, then put this skin on...that allows you to listen to what you want, and have this skin at the same time. - February 17, 2006 by Mark Ninnis
Excellent! - This skin is absolutely phenomenally done. The skill frame is perfectly fine, since it is generic and does not especially *clash* with the Luigi theme. The design is clean and clear while not being overly simplistic. The animated icons correspond to whatever they're placed over for an added touch. One of the best features is simply that the Amp, EQ, PL, and LB all look good and flow no matter how you arrange some, as opposed to some skins which impose a window positioning on you. Absolutely great! You're my new favorite skin arist. - December 1, 2005 by Ernie Fernandez
TIGHT!!!! - I definitely think this skin of da bomb!!! Very highly detailed, and Luigi is my favorite! All my 5 are belong to this!!! - April 17, 2005 by Roy Kim
Luigi is Gonna be big with this!! - I think this skin is AWESOME!!!! Nice metallic design, cool cursors, Super Mario Bros. Reference, and cool looks!! I give it a good, wholesome, 5! Plus, I think if people install this skin, Luigi will be a big hit!!! - March 18, 2005 by kazislam4000 Vance
Attention to detail! - Magnificent. The little things like the gif in the playlist top left corner makes it lovely. The color scheme is great... from one Nintendofreak to another, I give this all my 5. :P - November 15, 2003 by Eric Gomez
Nice - Ive always liked mario and luigi you have done a great job keep up the work man - June 18, 2003 by The Skinner Z
Wow - This skin is really well done. I love Luigi and this is an awesome tribute to him. Thanks a lot for creating this, it rocks! - March 21, 2003 by Sarah Flesch