>
Skins

>
Entertainment
The Official Lex Luthor Winamp5 Skin
The WB brings you an Official LuthorCorp Announcement...
The WB brings you an Official LuthorCorp Announcement...
The worldwide leader in groundbreaking agricultural products and services brings you this cutting-edge piece of technology. The LexAMP is a highly sophisticated device and is the brainchild of Lex Luthor himself. Once you've swiped the ID card, you'll get ALL ACCESS to the restricted areas of the player. Hit the EQ button to release the ID card. Be sure to check out Lex Luthor on Smallville, Wednesdays at 8/7c on The WB. User interface by Petrol Designs.
Download skin
| | | |
| --- | --- | --- |
| December 18, 2003 by The WB | 559403 downloads | |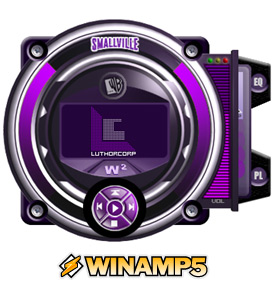 Staff review
New Lex Luthor Skin!
Your favorite bald villain to be now has his own Winamp 5 Skin
Comments
safdal - grrrr why will none of my skins work?!? - June 5, 2004 by Cerian Price
cool - cool - January 22, 2004 by Benjamin Masri
Nice! - It looks very cool. I like the colors. - January 20, 2004 by Adrian Powers
cool - Hmm i like it - January 17, 2004 by Henrik Blopsen
Cool@ - It is a cool skin indeed,i really like it! - January 16, 2004 by Chin Khin
wtf - right when i downloaded this skin and it went to open in winamp5 all hell broke loose and no songs will play on winamp?! - January 5, 2004 by Kyle G
Awesome....compliments the ultimate villain - Cool Color and nice compact chape...I like compact things :-) - January 4, 2004 by Siddharth Kaul
1233 - d - January 1, 2004 by wu junfeng
Gumpmeister - First off I have upgraded to a computer with some balls,subsequently now using Winamp5..which is one kick ass player...the skin,the smoothest running one I have tried yet other than the default skin....well done Nullsoft - December 27, 2003 by Gump .
Whoohoo - winamp 5 kicks ass !! like this skin !!! - December 23, 2003 by K00s Madismisback
nice - very nice sking is it comes with diffrent colors . ;) - December 22, 2003 by Shadow Master
0_o 0-0 o_o ummm - Ita awesome i wouldve been my #1 fav. the desighns AWESOME but sadly i hate smalville so its kicked down to 14 or 15 or 203 or 102939282 i HATE THE POP UP HEAD THING its my # 435367432637534873573425785874237 favorite Skin Reviewer HL_CS_CZ - December 20, 2003 by HL_CS_CZ HL_CS_CZ2