>
Skins

>
Entertainment
The Official Grind Winamp 3 Skin
Go Big or Go Home!
Go Big or Go Home!
Rip it up with Matt, Sweet Lou, Dustin and Eric as these skaters follow the Skate Board summer tour. Watch their wild attempts to get noticed, get chicks, and grab a sponsor. Check out this killer Winamp 3d Skin and see the movie Grind in theatres August 15.
Download skin
| | | |
| --- | --- | --- |
| July 30, 2003 by Petrol Designs | 313211 downloads | |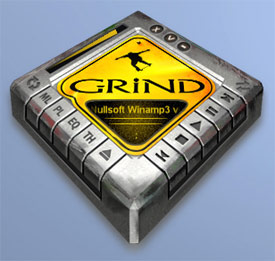 Staff review
Wow, this skin actually look pretty cool.
Not that I am all that surprised but I just can't stop looking at it. Oh well, nevermind.
Comments
Pretty Skin - i saw the movie and i like it a lot - May 1, 2007 by Miguel Torrellas
Excellent and clean - Couldnt resize the media library? Am I doing something wrong or is there a bug? - May 31, 2005 by Jeff Brisson
The best Skin in this category !!!! - enjoy it!!! - February 21, 2005 by dave lee
Good skin - Never saw the movie but I like the skin. - September 25, 2003 by bob boberson
Not bad - Not very bad , but not very good.That's why I gave it 3 stars. - September 14, 2003 by Alexey Sharikov
OK - Good idea but the texture needs more work. Check out MMD3 and u'll know wat I mean. - August 17, 2003 by aphr0dizzyac .
Okay - The 3D skin looks cool. Too bad the movie wont be the same... - August 16, 2003 by Richie Smith
great - i love this skin so much - August 10, 2003 by nitipat chantanintorn
Cool - well, cool! - August 9, 2003 by Shu Cheng
Cool - Very Cool! - August 5, 2003 by Cody J. Benner
_this_is_a_traffic_sign_ - hmm...Im not really a fan of movie-based skins, but this has to be one of my least favorite. It's...pretty ugly, so because it looks like a traffic sign, I don't even care about its functionality. Although it is a lot easier to figure out what these buttons do compared to some other buttons of many other skins, aesthetics matter more. 2 stars to you because it works. - July 31, 2003 by rach jo
Cool! - Awesome, man! - July 31, 2003 by Abu Ahsan Al Pondok Labu