>
Skins

>
Transportation
The Official Ford Sync Winamp5 Skin
Check out the great new Ford Sync voice activated communications system!
Check out the great new Ford Sync voice activated communications system!
Download the Winamp SYNC winamp skin. SYNC is an in-car communication system that lets you operate most Popular MP3 players, Bluetooth phones and flash drives with simple voice commands. Its factory-installed and available exclusively on twelve 2008 Ford, Lincoln and Mercury vehicles.The Bluetooth word mark and logos are trademarks of the Bluetooth, SIG, Inc. Why not take the Skin for a spin, download now!
Download skin
| | | |
| --- | --- | --- |
| December 17, 2007 by Ford Sync | 578129 downloads | |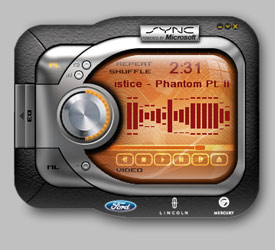 Staff review
Take the skin for a spin
Download the Winamp SYNC Winamp skin.
Comments
muy lindo¡¡¡ - February 27, 2011 by Camopa83
super - January 3, 2011 by [email protected]
cca - asdasdf - February 3, 2008 by ccacca ccacca
Wait... It's a car? - I tend to ignore car-themed skins, most of them are impractical, either they're too big, and crush my desktop under their mighty weight, or they're too fiddly, and I keep thinking they should really have used those headlights for something, or they're functional, but hideously ugly. I don't care enough about cars, I guess. But this one has nothing at all to do with cars. Well, not directly. It's a skin of a thing that you put IN your car, and it plays your mp3 player, which (theoretically) plays your mp3's. I don't know why you'd want one of those. However, it sure does make a pretty Winamp skin. - January 21, 2008 by THUD~* Munkki
Okay - I like it, but yet again, whatever happened to the sync for your computers. Being able transfer music to your music devices.But now they refering syncing as way to communicate hands free. Man, whatever happened to using headsets, things that we call ear pieces, or that witchama callit, where you can set it up on your phone and tell the phone what you want done. For example; if you want voicemail, then if you got voicemail, but of course you got to speak real clearly when you do that stuff or the phone will mistaken for what you say and the do something else that you don't want it too. Or sometimes it will also go out on a fritz and also totally do the exact opposite, or do it anyways. But I also understand, that some people have the tendcies to fumble around with this stuff or sometimes forget to mess with it before the get into the car, but c'mon, what is next be able put music on a device, being able to live out of your car, or what. I think this is becoming a little absurd. But if guys or gals, like this sitting on the interface of your desktop, thinking it be as real as the vehicle, well I got some news for you, I don't think it is going to work, unless you are driving the real thang there buddy. Well that is all I got say. You guys all have a nice day, y'here.Your detail coordinator :)*spyder_monkey* - January 20, 2008 by Nicole Seichter
Very nice, but... - The Ford and Sync logos kind of make me not want to use it. I'm not some anti-corporate loser but I don't want an ad, I want a Winamp skin. - January 16, 2008 by Shawn J.
good - this is good skin. - January 9, 2008 by rakesh maha
Off the Hook - Damn this is such a sweet looking skin, very sharp and clear, I love the size to, nice an compact and just flashy enough, Damn good job very nice.T - December 31, 2007 by Seamus ORinn
cool skin - realy cool - December 27, 2007 by cris tocila