>
Skins

>
Entertainment
The KidsWB Winamp 3 Skin
The KidsWB Winamp 3 Skin
The KidsWB Winamp 3 Skin
Here it is... the Kids WB player featuring multimode characters including PICHU, Scooby-Doo, Ozzy, and Flea. WATCH KIDS' WB! MONDAY THROUGH SATURDAY FOR ALL YOUR FAVORITES! Be sure to check out the KIDS'WB! website from the player. User interface by Petrol Designs.
Download skin
| | | |
| --- | --- | --- |
| December 9, 2002 by The WB | 587260 downloads | |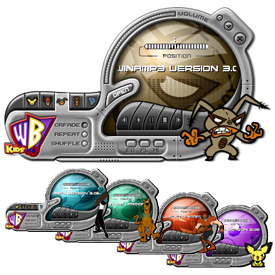 Staff review
Perfect for your Saturday morning veg out fests.
Select from all your favorite cartoon characters. Stylish and cool for kids of all ages.
Comments
Not my fave but.. - Puts a smile on the kids' faces. Finally a skin I can share with the kids without them going what is that. Not the type of skin for everyone though, so expect a lot of bad remarks. Honestly if it wasn't for the kids this one wouldn't be in the skin library. - July 17, 2005 by Wolf Bringer
^^, - This is my absolute favorite skin - July 9, 2005 by Rose Chan
=) - if only i watched these cartoons.. cool idea, though. numbers for timer thing are hard to see - October 8, 2003 by kko n
best Winamp Skin - this is a best skin !!! so dun think so much !!! just download it !!! - July 13, 2003 by iris guan
What the hell.. - This is NOT anime, jeeze, MORE american crapimation... x.x;; - June 22, 2003 by Ihetyh Hylinia
UNA FIGATA!!! - There's an italian expression to describe this fabolous skin: UNA FIGATA PAZZESCA!!! (which means "it's extremely cool!!"). I love the chance to switch to one toon character to another... Compliments to the author!!! - April 30, 2003 by Valeria Ragonese
Tu Meke - This is Tu Meke K a Pai e hoa ma - March 9, 2003 by Rangimaria Mataira
Agree with Valentin Mueller - It would be great without comic charactors. But i like it COOl! - March 7, 2003 by Sikander Shahjahan
Heh, nice one ;) - Hey, AWSOME skin!!! Still, sometimes it crashes winamp when trying to change the theme ;( So debug it, and then it'll become the best :) - February 28, 2003 by Felix Nally
Would be a great skin without those comic-characters... - ...they are just ridiculous, I hate 'em. - February 26, 2003 by Valentin Mueller
Cool Characters :-) - it's a Very Cool skin and so Funny Characters.Iove That :-) - February 10, 2003 by Moshe Zaharovich
reel good skine - but it is grand - January 31, 2003 by ramy lamai
Great! - It's Great! - January 23, 2003 by Vinicius Abreu de Franca
ULTIMATE SKIN! - Believe me it's the best you can get and furthermore it's absolutly free! My compliments to the WB team for creating this outstanding skin!!! Stay cool... - January 17, 2003 by Denis Vavtar
finally something original! - I don't know what to say, I have rated some skins but this takes it all. I don't think I have to say anything- It speaks for itself....Like the characters alot though* as the guy before....WEEEEEeeeeeeee =) - January 12, 2003 by chris just
it's funny!!! - i'm a freshman of use this useful software . now i just try , try and try....^^ - January 5, 2003 by jully wei
feels like being YOUNG AGAIN - yeeah :) - December 30, 2002 by jo kowalska
the BEST skin for Winamp 3!!! - It's cool and nice. - December 15, 2002 by cheng tj
not bad but not good - So-So - December 12, 2002 by ilia kolominov
Yohhhhh!!! - IT'S A CUTE SKIN 4 ME. - December 11, 2002 by grand bkk