>
Skins

>
Animated
The Flames of Hell
Rurouni Kenshin
Shishio Makoto and Komagata Yumi
Shishio Makoto and Komagata Yumi in a bunch of flames, and in the middle of my first freeform winamp skin. I like how it came out, and I like how easy it was to make it after being scared of it for, what, a year?! Just watch my lovely assistant, Xianghua, showing off the duds.
Download skin
| | | |
| --- | --- | --- |
| February 25, 2004 by Kha Chu | 251718 downloads | |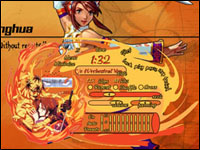 Staff review
Grand
Wow, what a busy skin, but all the functions are there, great work for a first attempt.
Comments
Amazing!! - This skin is the most fantastic I ever seen, I recomendeted!! - August 6, 2005 by J Dash
a - awsome skin, rurouni kenshin kicks ass n so does this skin! - July 19, 2005 by Andrew Sharpe
nice - Very good - October 25, 2004 by Kaze Kaze
cool - It really looks cool, but it is hard to use and the vis doesn't show up on it. - September 28, 2004 by Mikey mahar
WOW!! - I LOVE Rurouni Kenshin!! And loved your skin, its very nice =) Yumi is one of my favorite characters, i got really sad when she died in that fight between Shishio and Kenshin, i never tought Shishio would kill her. Anyway, she died happy =) - May 22, 2004 by Frana Death
Flames of Hell - really cool - April 27, 2004 by Satan Queen
Great Skin! - I like this skin a lot. Great Skin! Keep up the good work. Make one for Kenshin on your next version :) - March 24, 2004 by brian dinh