>
Skins

>
Entertainment
The Chronicles of Narnia
The Lion, The Witch, and The Wardrobe
The Lion, The Witch, and The Wardrobe
The Narnia Winamp 5.11 skin follows the exploits of the four Pevensie siblings--Lucy, Edmund, Susan and Peter--in World War II England who enter the world of Narnia through a magical wardrobe. Once there, the children discover a charming, peaceful land inhabited by talking beasts, dwarfs, fauns, centaurs, and giants that has become a world cursed to eternal winter by the evil White Witch, Jadis. Under the guidance of a noble and mystical ruler, the lion Asian, the children fight to overcome the White Witch's powerful hold over Narnia. Be sure to see The Chronicles of Narnia only in theatres this December.
Download skin
| | | |
| --- | --- | --- |
| November 23, 2005 by Chronicles of_Narnia | 244596 downloads | |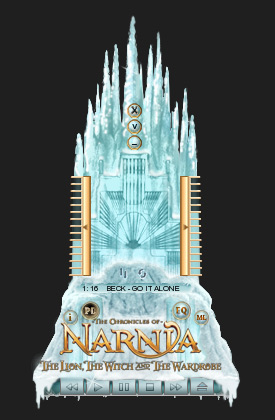 Staff review
Brrrr!
Just in time for winter, check out this icy cool skin.
Comments
wooooooooooow - cool - December 18, 2007 by Vesta galentaite
GREAT - Just great, very very good - August 21, 2007 by Denisse Aravena
narnia - hey hey hey - March 11, 2006 by robin smedsrud
Narnya - Very Good! - February 5, 2006 by pablo barrios
Excellent! - I can't describe it it's to good for words! Absolutley excellent! - January 12, 2006 by Alex Lee
is the best - is so nice, i like't - January 9, 2006 by annie xD
narnia - bra=) - January 7, 2006 by reni todal
Nice - Looks so nice! - January 5, 2006 by Janne Wang
Best movie I've seen all year! - Simply spectacular! - December 29, 2005 by Kelsi Thomson
eh - alright skin; the symmetry kinda falls flat, but alright. the movie sucks, though. - December 17, 2005 by tr 67
Good - I like it. - December 7, 2005 by li jia
great skin - this one its a complete modern skin that looks like you are in winter but in my country it never snows and ai give you * * * * * - December 7, 2005 by Ivan Palacios
Icy cool - This one's the very definition of COOLNESS.... - December 5, 2005 by Zsazsa alvarez