>
Skins

>
Entertainment
The Beerfest Winamp skin
More Beer!
More Beer!
Drink BEER! with ?The Beerfest Winamp skin?. When Americans Todd and Jan Wolfhouse travel to Germany to spread their grandfather's ashes at Oktoberfest, they stumble upon a secret, centuries old, underground beer games competition "Beerfest," the secret Olympics of beer drinking. A Team of beer drinkers and gamers: Barry Badrinath, the consummate skills player with a dark past; Phil Krundle, a one-man chugging machine; and Charlie Finklestein, the lab tech with a PhD in 'All Things Beer'. But first they must battle their own demons as well as a bunch of big, blond, German jerks who want to destroy the team before they can even make it back to Munich. In theatres on August 25th.
Download skin
| | | |
| --- | --- | --- |
| June 28, 2006 by Beer Fest | 310895 downloads | |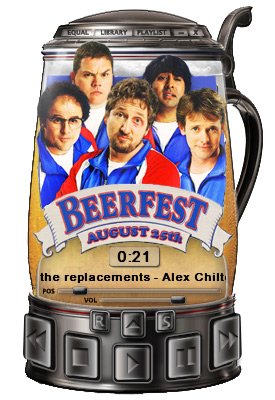 Staff review
Beer is good.
Send us beer anytime.
Comments
fadsfd - dsfdsf - November 15, 2006 by nick Patel
cool - yeah - October 13, 2006 by yannick graeser
"?D?y?t???|?????D?y?t???|"" - "?D?y?t???|?????D?y?t???|"" - September 15, 2006 by Steve Stonebraker
dafgad - asdfsdf - September 8, 2006 by Steve Stonebraker
LOL - I love it! - August 14, 2006 by Boris Karaivanov
best skin i have seen - its awesome skin i have seen till now. simply the best.keep it up guys :-) - August 9, 2006 by herman singh
I like this skin. - I also like beer.When I see this skin.I just want to drink beer.This skin creates hungerin me for beer. - July 2, 2006 by Rahul Mehta