>
Skins

>
Games
TetrisAmp
Watch for falling blocks...
Watch for falling blocks...
Based on the classic puzzle video game. Completely skinned for 2.9
Download skin
| | | |
| --- | --- | --- |
| August 16, 2003 by Luigi Hann | 31956 downloads | |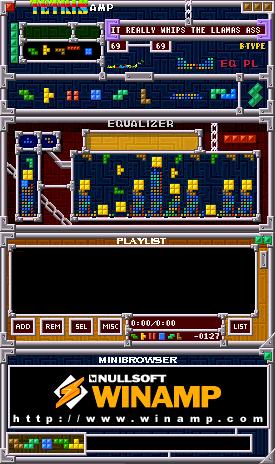 Staff review
Great skin.
Very well follow up on the tetris theme, check out the animations.
Comments
REALLY GOOD - I'm not a big fan of Tetris, but this is really good for a Tetris Skin. There is only one reason I lowered the number to 4, and that was because of the color of brown and the blue. I didn't like the combination of the dark blue and brown of the windows...in my opinion it would have been better to stick with one color for the background of the windows. Otherwise a perfect job, take care and keep up the good work. - February 18, 2006 by Mark Ninnis
This Is the [email protected]*T! - DDDDUUUUDDDDEEE........I GIv you do much PROPS. THis Is The Best...Takes Me Way Back WHen Tetris Came Out Gameboy(B&W). Thanks, DJ Q - June 22, 2005 by DJQ Chris
nifty! - i love tetris, being about the only game i can actually play! *laff* i love the little bricks that spin on the pointer, it's what makes a skin great! well done :) - May 23, 2005 by Katherine Leonard
Lets play some Tetris mother ****er - I got a nice song that goes great with this skin, all my stars are belong to this skin! Now how about a Dr. Mario skin? - December 10, 2004 by Jeff Heath
Ha! - I never thought about this... GOOD! - May 23, 2004 by Warren Chen
Fun in every detail - Nice theme and worked out very well. I really like the (many) animations and cursors. - September 3, 2003 by Fred Jansen
good function, bad appearance :( - good function, bad appearance :( - August 19, 2003 by altair4444 .