>
Skins

>
Entertainment
Teenage Mutant Ninja Turtles
Complete with a Turtle Toggle!
Complete with a Turtle Toggle!
Get ready for wall-to-wall TMNT action with the TMNT Winamp skin! On March 23, the Teenage Mutant Ninja Turtles return to the big screen in an all-new CGI action adventure. Leonardo, Michelangelo, Donatello and Raphael are in for the fight of their lives as they face an army of ancient monsters and the mysterious Foot Clan, led by the powerful and enigmatic tech-tycoon Maximillian J. Winters. Jump in and download the skin now!
Download skin
| | | |
| --- | --- | --- |
| March 8, 2007 by Teenage Mutant Ninja Turtles | 957990 downloads | |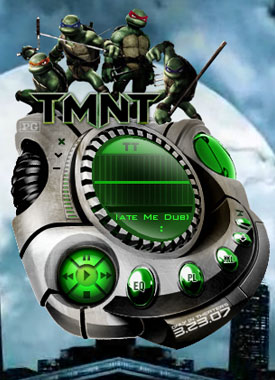 Staff review
Green & Mean.
Comments
simple - November 16, 2010 by [email protected]
No Shell Game - I like the unique angle to the skin. On first look it may appear "bulky" or difficult to use, but neither comes is the case. This one is a keeper! - June 22, 2009 by richard
Cool - Cool, dude!! - April 26, 2008 by ghost whisperer
jhujjh - gjhfyikl - March 31, 2008 by ariel leo
tmnt - stylish skin but a little too big - March 9, 2008 by daniel raimondi
hey guys - i am not able 2 download this skin if anyone is free send me this file 2 [email protected] arvin - October 21, 2007 by arvin cv
it's looking good !! - it's looking good !! - July 1, 2007 by mohamed elgende
bad - i dont like it... For example.. Where is the Menu button? I cant change skin back again.... poor - June 20, 2007 by alex soelberg
Needs Work - To me If i were to use it I would feel lost... It seems a little complicated on where the buttons are but ALL in ALL it is Original - May 8, 2007 by Eric Schaefer
I Like to Skin-David - I Like to Skin - April 9, 2007 by David yu
aim - thenk u - March 24, 2007 by romeo5 beback
Turtle Power - WOW! what can I say very nice looking skin and if your a turtle fan download it, mind you i am looking forward to watching the film... - March 19, 2007 by Nick Zammit
Exelente! - Calidad - March 18, 2007 by Eduardo Nolasco
wicked - Pretty badass skin. I mean c'mon, it's TMNT. - March 14, 2007 by Aaron Boswell
TMNT - Wow! This Skin is so cool! - March 8, 2007 by sarai shar